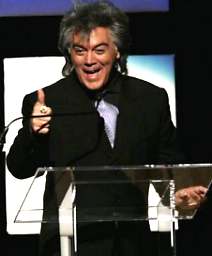 I knew Grammy Week 2007 had begun after I checked into my hotel Wednesday and immediately saw a very flattering feature on Universal Music Group's Luke Lewis in People: Hollywood Daily, which is distributed throughout the music industry here.
Although the red carpet is just being laid downtown for Sunday's show and many of Nashville's bold-face names are just arriving, Nashville's presence is already making itself known. Along with Mary J. Blige and the Black Eyed Peas' Will.i.am, Josh Turner was featured in the Los Angeles Times special Grammy section on Wednesday. In it, he discusses the mixed emotions he'll feel if nabbing a Grammy means taking a victory away from his musical hero, Willie Nelson. What a nice guy. My only conflict would be deciding which designer gown to wear.
Obviously, Carrie Underwood and the Dixie Chicks, who graced Thursday's People: Hollywood Daily, are getting the most buzz. Both are nominated in the Grammy's biggest categories.
In the Times' "Mt. Grammy" feature, which claims Justin Timberlake and Gnarls Barkley are "peaking" and John Mayer and the British acts are "climbing." it describes Carrie as being "At Base Camp," along with Arctic Monkeys and The Fray. It says, "The Right Mix: Carrie Underwood math: A little country + a little rock 'n' roll + a pinch of piety + a hint of rebellion = a lot of Grammy votes."
Carrie was among those on Thursday night's guest list of the much-anticipated Grammy Foundation event called The Soul of Country, held at the Wilshire Ebell Theater. This annual celebration, which honored the music of New Orleans in 2006, this year highlighted the invaluable cultural contributions of country music. It was only fitting that Marty Stuart was tapped to host because he's been country music's ambassador for preserving and honoring country's rich heritage.
"The bottom line is, it's a wonderful evening of music," Marty says. "I love country music the very most when the past, present and future collide, and that is what's happening tonight.
"It only enriches the Grammys. It absolutely tells me that the family of country music is still alive and well. I still hang on to the fact that the country music I know and love most, we are a family. I love it when everybody gets to get together and be honored and recognized."
Historical film footage from the Country Music Hall of Fame and Museum was shown, and at press time, the lineup consisted of performances by Shooter Jennings, LeAnn Rimes, Joe Nichols, Charley Pride, Deana Carter and Brian McKnight. Also making appearances were actor Terrence Howard, director Taylor Hackford andsinger Solomon Burke. Porter Wagoner had a surprise walk-on, which marked the first time he has performed in Los Angeles.
"It just takes me awhile, I guess," Porter said. "I never had an occasion to play here. I've been here many, many times before, but I never played here before. I'm enjoying the sunshine out here in beautiful L.A."
His wardrobe of choice for such an auspicious debut? "Just a rhinestone suit with a lot of stuff on it," he says. "It's nice looking." In other words, just Porter's version of business casual.
Porter recently recorded a new Marty-produced album for the punk rock label Anti-Records, so they went to the label's headquarters Wednesday for the staffers to meet the Opry legend. "It was so wonderful yesterday to see the kids come out of their offices and just melt in Porter's presence," Marty says.
Porter remains stunned by the reaction.
"In my many years of country music business, I've never been so touched by a bunch of young people," he says. "They came out and it's like they had been waiting to meet me. They had the excitement like they had a new Elvis record. It was just unbelievable."
Apparently, Porter has been bitten by the West Coast performance bug. He's flying back home today but will return to L.A. next week to perform a show with Neko Case. "It's just an exciting place for me to be right now."
Ah, finally, a sentiment that everyone from the Dixie Chicks to Carrie can agree on.
By Beverly Keel