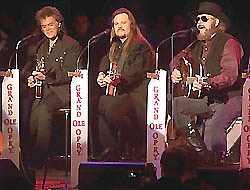 Country Music Hall of Famer Waylon Jennings' friends paid him tribute last night in what 44-year Grand Ole Opry veteran Porter Wagoner called ''the most exciting night I can ever remember on the Opry.''
Having spent Friday at Jennings' funeral, Hank Williams Jr., Travis Tritt and Marty Stuart opted to turn from grief to celebration, using their Opry slot to play more than an hour of songs recorded or inspired by the Texas-born songsmith. Country Music Television extended the televised portion of the Opry for six minutes to broadcast the entire affair.
After Wagoner and his band took the Ryman Auditorium stage at 7 p.m. and performed a medley of Jennings' hits, the stage curtain closed briefly. A standing ovation ensued when the curtain rose to reveal the trio of performers, holding instruments and sitting on three stools (songwriter Bob DiPiero was originally scheduled for the show but ceded his spot to allow Stuart's surprise appearance). A fourth stool, to Williams' immediate left, remained empty in honor of Jennings.
Williams then sang "Eyes of Waylon," adding some lyrics to the song he composed in 1995. While Williams is most often associated with his famous father, Jennings was a formative influence on his sound. The same may be said of Tritt, a country rocker who celebrated his 10th anniversary as an Opry member last night. After "Eyes of Waylon," Tritt joined Williams for "The Conversation," a song about Hank Williams Sr. that could as easily be applied to Jennings, whose recklessness in life and in music often put him at odds with Nashville's Music Row:
''Back then they called him crazy/ Nowadays they call him a saint/ Now the folks that called him crazy/ Are still ridin' on his name.''
Throughout the show, the normally staid Opry crowd proved unusually boisterous, standing to cheer versions of Jennings' favorites including "Only Daddy That'll Walk the Line," "This Time," "I've Always Been Crazy" and "Are You Sure Hank Done It This Way."
By Peter Cooper