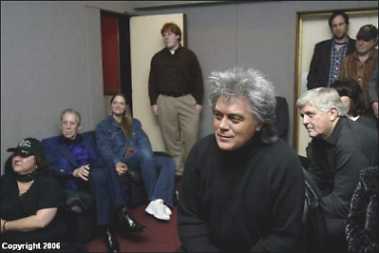 The scene at OMNIsound Studios on Friday, December 30, 2006 was an after-hours Music Row-area abnormality.
No booze, no cell phone rings, no background chatter . . . just a legendary voice heard through monitor speakers, some accomplished musicianship supporting the vocals and hearty applause from the small group of listeners after each song ended.
The songs, like the two splendid rhinestone suits that were hung behind the control room soundboard, belonged to Country Music Hall of Famer Porter Wagoner, the heralded "Thin Man From West Plains" who nearly died last summer of an abdominal aortic aneurysm.
"We tried to start the record in July, and Porter almost died. But we got it done, and I think this is one of the best records to come out of this town in years," said Marty Stuart, who produced the record in question, Wagonmaster. A May 2007 release date is set on Anti Records, a California-based label with a roster that includes iconic singer-songwriter Tom Waits and soul singer Bettye LaVette.
Wagoner turns 80 this summer, and the album is an attempt to reveal the full extent of his artistry to generations that know him only as a Grand Ole Opry elder. Wagonmaster contains the humor, sadness and fully intended weirdness that characterizes Wagoner's most memorable recordings.
Stuart has been a Wagoner fan since childhood. The Thin Man's syndicated television show provided a weekly opportunity for a young Stuart to bond with his father.
The show allowed young Stuart to enter Wagoner's country music world, a place where banjos could be electrified and made to sound more like steel guitars, where recitations were delivered with sincerity and emotion and where the outlandish star could stand in an unearthly suit and sing convincingly about salt-of-the-earth concerns.
"Times change, but Porter hasn't," Stuart said at OMNIsound. "He's an American master and a cornerstone of our music."
At the December 30 listening party, the cornerstone wore a subdued outfit and sat in a chair, smiling shyly at the applause of musicians including Connie Smith and Buddy Miller and executives including Pete Fisher, the Opry's vice president and general manager.
"I produced a lot of records myself, and I believe Marty's a genius at it," Wagoner said. "I had a lot of help on this from a lot of wonderful people. They inspired me, man."
On Wagonmaster, Wagoner's voice sounds knowing but refreshed. Electric banjo man Buck Trent is back on board, for the first time in three decades, and the sound is neither retro nor futuristic. Late-period masterworks from Johnny Cash and Loretta Lynn put those artists in rock settings, but Stuart eschewed rock-ready updating in favor of sounds and instruments that Wagoner has always favored.
That doesn't mean that Wagonmaster isn't an edgy proposition: Wagoner always looked for ways to push the country envelope, whether by bringing shimmering "Crimson and Clover"-style electric guitars to "Heartbreak Affair" or by using washes of reverb on oddball classic "The Rubber Room."
The spirit of the latter number, which Wagoner recorded in 1972, is recalled on Wagonmaster's "Committed to Parkview," a song Johnny Cash wrote about a stay in a mental institution. Cash recorded the song twice, once on 1976's One Piece at a Time album and once on the Highwaymen album with Kris Kristofferson, Waylon Jennings and Willie Nelson. Wagoner's somber delivery gives the song new life, which would be no surprise to Cash, who told Stuart a quarter century ago that Wagoner should record it.
"I'm so thankful to have one of Johnny Cash's great songs," Wagoner said.
And so it went that Friday evening. Candles flickered, Stuart offered thanks to Wagoner, Wagoner offered thanks to Stuart, and the music offered the beauty of harmony, the reality of dissonance and the proof that an aneurysm at age 78 need not preclude significant artistry at age 79.
Wagoner's attire has always been full of flash, and he possesses what Stuart calls "a loud image." But the flash must give way to the music at some point, and Wagonmaster seems primed to put Wagoner's music back at the forefront of country fans' thoughts.
"It matters not just what a man has on," Wagoner sings on "A Place To Hang My Hat." That line is delivered without irony, from country's sharpest-dressed man. On December 30, Wagoner's listeners and cohorts smiled at that one, then smiled some more. At album's end, they all retreated to a studio hallway for doughnuts and fellowship.
By Peter Cooper