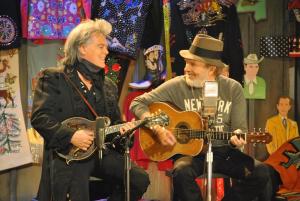 American music treasure Merle Haggard paid a visit to RFD-TV studios in Nashville recently to help Marty Stuart wrap up Season 5 of his hit RFD-TV series, The Marty Stuart Show. The half hour musical variety program is broadcast on Rural Media Group's network, RFD-TV, as part of its highly-rated Saturday Night Music Row block of music and variety entertainment. The season finale, featuring Merle Haggard, is slated to air on Saturday, June 29, 2013.

In addition to Haggard, this year's line-up of special guests highlights an eclectic mix of icons and stars including Sheryl Crow, Gene Watson, Old Crow Medicine Show, Charley Pride, Iris Dement, and The Del McCoury Band. Season 5 of The Marty Stuart Show began airing January 12 on RFD-TV and will re-air on FamilyNet beginning July 13. Go to schedule.rfdtv.com for a program schedule or check your local listings.

Rare and magic moments have defined The Marty Stuart Show since its debut in 2007. Dolly Parton, Brad Paisley, Keith Urban, Lyle Lovett, and Willie Nelson are among a veritable who's-who of country, rock, gospel, and folk music luminaries who have graced the show's set at RFD-TV's studios in Nashville, Tennessee.

"Entertainment and variety series are hugely popular with our viewers and Marty's show is at the absolute top. Marty's show is wholesome entertainment, showcasing the best in traditional country music," says Randy Bernard, CEO of Rural Media Group.