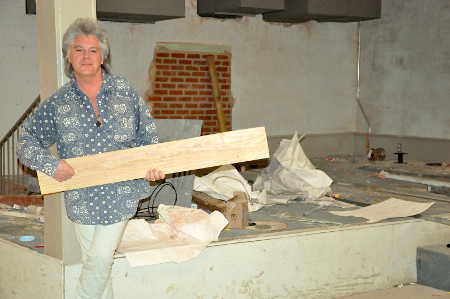 Sitting inside a warehouse downtown last week that will house his treasured collection of country music artifacts, country music legend and Neshoba County native Marty Stuart recalled memories as a young boy walking up and down Highway 19 north - out on "Route 8, Philadelphia, Mississippi," and he likes to say - with his guitar around his neck trying to make his neighbors think he was important.

He didn't know at that time that he would eventually receive five Grammy awards, an induction as a cast member of the Grand Ole Opry in Nashville and an induction into the Mississippi Musicians Hall of Fame, among many other accolades.

Stuart wouldn't have known a marker with the Mississippi Country Music Trail would be placed near the building were he bought his first guitar at the old Turner Hardware on the square.

At 12-years-old, he did know he was going to marry country music star Connie Smith after seeing her perform at the Choctaw Indian Fair. He did know, however, that he wanted to one day tour and play country music for audiences across the country.

Stuarts hopes someone, like him years ago, will gaze at Johnny Cash's first black suit or Hank Williams' song manuscripts at the future Marty Stuart Center and be inspired to make their dreams come true as well.

Several locations in Philadelphia are being considered for the center, but a decision hasn't been made, he said. The warehouse is in the old Coca Cola building on Center Avenue.

"I have to believe some kid will get inspired to have the hunger and courage and determination to carry out their dream," Stuart said. "It will be worth it. The next Faith Hill may even be from here."

Interior renovations to the old Coke building that will warehouse the Marty Stuart collection, a priceless collection of country music artifacts Stuart has been acquiring since the late 60s, is set to be complete within the next couple of weeks, Community Development Partnership President David Vowell said. Exterior renovations were completed last September.

Stuart, who was here in Philadelphia last week, stood in front of the warehouse and had a slight grin on his face admiring the soon-to-be completed warehouse.

He even picked up a handful of stray nails and screws on the sidewalk and chunked them into a nearby green garbage bin, a testament to the pride he has for the building and his hometown.

The air conditioner blew a continuous frigid draft of air inside the warehouse.

"It's good that's the air's finally on," he said.

Stuart said he has held off on finding a permanent spot for his collection of over 20,000 pieces until a center could be developed in Philadelphia.

"All my dreams as a little boy all came to me as kid in Philadelphia, Miss.," he said. "It seems important to me a center of this magnitude and this prominence to be in our state."

Stuart called Tupelo the "spiritual home of rock and roll" in the state with Elvis Presley's birthplace and Indianola the "spiritual home of the blues" with B.B. King's museum.

"The ultimate spiritual home of country music to me is the Marty Stuart Center in Philadelphia, Miss.," he said.

Once the center is opened, Stuart hopes the Ellis Theater could be utilized for country music events, including possibly the Mississippi Musicians Hall of Fame induction ceremony.

He also aims to maybe have an Sirius/XM radio station located at the center.

"This center could be the catalyst to bring an entirely different story to this town," he said.

"It's absolutely dripping in American culture, the arts and history. Philadelphia has seen the best of times and the worst of times, but it has endured. That's the heart of its people."

The next step will be to find funds to pay for the collection and move it to the warehouse, Stuart said.

He is committed to donate most of it and will charge a fraction for the rest.

"It's a priceless a collection," he said.

The country music artist is optimistic the state will secure some of the funds, but private donations and fundraising will probably be needed as well.

Any surplus funds from the warehouse renovations will be used to move the collection to Philadelphia, Stuart said.

His collection is the largest private collection of country music artifacts in the world and has been recognized by the Smithsonian and the Library of Congress.

Some pieces have held residence in the Country Music Hall of Fame, Ryman Auditorium, Grand Ole Opry Museum, GRAMMY Museum, Rock and Roll Hall of Fame and several others around the nation and world.

While no site for the museum has been acquired, Stuart and other officials are "flirting" with several locations, but are "taking it a layer at the time," he said.

The state has already appropriated $2 million so far toward the proposed center which would be a combination of a museum, theater and classroom.

While the center would house the collection, the theater would be for small performances and the classroom has been described as a place for "oral histories."


By Conor Bell