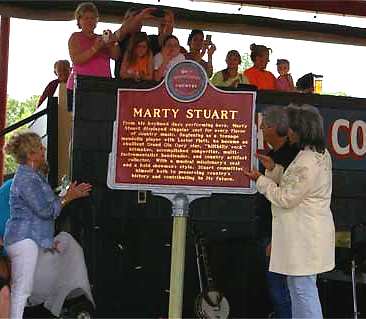 Marty Stuart and his wife, Connie Smith, joined local and state leaders Sunday at the Fair to unveil a Country Music Trail Marker in his honor.
"I am so proud," Stuart said. "Thank you so much. I'm so happy to share this with my family."
At least 30 other Country Music Trail markers will be situated around the state and will feature a variety of other artists, including Charley Pride, Conway Twitty, Jerry Clower, Faith Hill and Paul Overstreet, among others.
Stuart's marker, to be placed in downtown Philadelphia, will be the second on the trail as one in honor of Jimmie Rodgers was placed in Meridian earlier this year.
Stuart told the crowd gathered at the grandstand that Neshoba County has had a big influence on him and his career.
He recalled playing at the grandstand as a youngster with the "Musical Rangers."
"We had one of those clip on magnet signs to go on the car to make us look important," Stuart said.
He said the story of Mississippi music was an international one.
"It is heard around the world," he said. "I have every hope and dream and every confidence that Mississippi music will roll on.
"I love Philadelphia. I love Mississippi. I take it with me everywhere I go."
Lt. Gov. Phil Bryant and Miko Beasley Denson were among the speakers before the unveiling.
"Generations will be able to come to Philadelphia and say this is where Marty Stuart is from," Bryant said. "We have a treasure in Mississippi. He is here. His name is Marty Stuart."
Denson told Fairgoers that Stuart is not only an ambassador for Philadelphia and Mississippi but for Choctaw as well.
He recalled the crowd which turned out to hear Stuart and his wife perform at last year's Choctaw Indian Fair.
"We have an open invitation for them to come back," Denson said.
Stuart's Country Music Trail marker resembles the Otis Rush Blues Trail marker that was placed at the historic train depot.
Stuart's marker will be at the corner of Byrd Avenue and Main Street near the Jordan and White law office, the block where Stuart bought his first guitar.
Stuart requested that the marker be unveiled during the Fair and placed at that location.
Born in Philadelphia on Sept. 30, 1958, Stuart is the son of John and Hilda Stuart.
By Steven Thomas