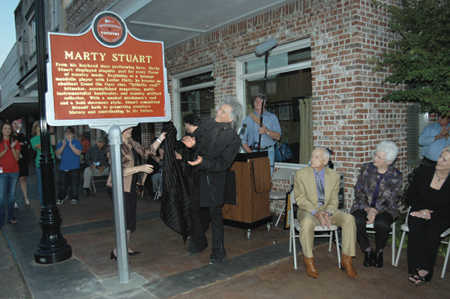 Arlington native John Richard Stuart, father of country music singer-songwriter Marty Stuart, was remembered for his love of Gospel music, dogs, fishing and tall tales.

Services were held Tuesday at 2 p.m., from Old Pearl Valley Baptist Church in Neshoba County.

The Rev. Dr. Dan Howard and the Rev. Dwight Fleming officiated. Burial was in the church cemetery under the direction of McClain-Hays Funeral Home.

Mr. Stuart, 83, of Smyrna, Tennessee, formerly of Philadelphia, died Thursday in Tennessee.

Born April 5, 1932, to Levi Lincoln and Eddie Lee Stuart of Arlington, Stuart was one of eight children.

Brothers Windol, Rudolph and Ralph, along with sisters, Martha Carolyn, Waldine, Doris and Winifred, all held strong Neshoba County ties throughout their lifetimes.

Stuart married his sweetheart, Hilda Annette Johnson, on June 22, 1952. They had two children, Marty, born in 1958 and Jennifer, born in 1960. The family raised their children in the Arlington community before moving to middle Tennessee in 1974.

John Stuart and his wife were in Philadelphia in the fall of 2010 as honored guests when Marty dedicated his Mississippi Country Music Trail marker downtown.

Marty Stuart did a "jam session" in the Ellis Theater where Dolly Parton sang a pre-recorded "Happy Birthday" and he reunited with his boyhood band before a packed crowd.

John Stuart said at that time that he would return to live in Neshoba County if he could.

He and Hilda were proud to be honored guests at the event billed as the Marty Party.

"I think it's great," John Stuart said, after the Ellis performance. "I think it's real good. I think it's really good."

The Stuarts have been gone from Neshoba County for more than 40 years, but John Stuart said, "I'd be back tomorrow if it was left up to me."

John Stuart served in the Army from 1953 to 1955.

Throughout his life he held jobs as a brick mason and factory supervisor for the Chromalox and Whirlpool companies.

John and Hilda Stuart are former members of Old Pearl Valley Baptist Church in Arlington. They were members of the Parkway Baptist Church in Smyrna, Tenn.

Tennessee newspaper columnist Dan Whittle wrote about lifelong Stuart friend and neighbor Rick Hodgins recalling their parents singing gospel songs each Sunday night after church.

"That's when my brother, Butch and I, along with Marty and Jennifer, would join with our parents (Jane and Norford, John and Hilda), for our Sunday night singings," Rick recalled.

He is survived by his wife, Hilda of Smyrna, Tenn.; his daughter, Jennifer of Smyrna, Tenn.; his son, Marty, of Hendersonville, Tenn.; and brother, Ralph, of Arlington.

Pallbearers were: Stuart Duett, Steve Duett, Gary Eubanks, Johnny Stuart, Jeff Stuart and Brad Stuart.

Honorary pallbearers were: Barney Nowell, Butch Hodgins, Ricky Hodgins, Dickey Day, Don Johnson, Thomas Gamblin, Tommy Wren, Ralph Stuart, John Brady Stuart, Caden Stuart, Dan Whittle, Howard Verry, Buddy Cox, Herbie Elliott, Tom Jones, Wes Ely, James Powers, Douglas Beatty, Harold Willis and Roy D. Willis.