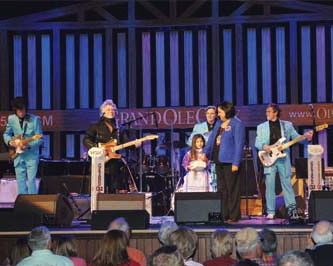 Mississippi Band of Choctaw Indians Tribal Chief Phyliss J. Anderson and a group of traditional Choctaw dancers were honored guests during a celebration at the Grand Ole Opry's Ryman Auditorium in Nashville, Tennessee Saturday night.

The celebration was held to commemorate country music superstar Marty Stuart's 20 years as a member of the Grand Ole Opry.

During the show, Stuart offered high praise for the people of Neshoba County and of the tribe.

He then invited Chief Anderson to join him on stage. Chief Anderson spoke of the great friendship between Stuart and the tribe, as well as the great friendship between the two of them. She presented Stuart with a beaded Choctaw medallion.

She also presented a miniature set of Choctaw Christmas ornaments to his wife, Country Music legend Connie Smith.

The dancers then performed the House Dance while Stuart sang "I Met My Baby at the Choctaw Fair."

Chief Anderson and the dance group joined Stuart on stage during two one-hour segments of the Saturday night show. This invitation to appear on stage at the Grand Ole Opry is a first for a Native American tribe.