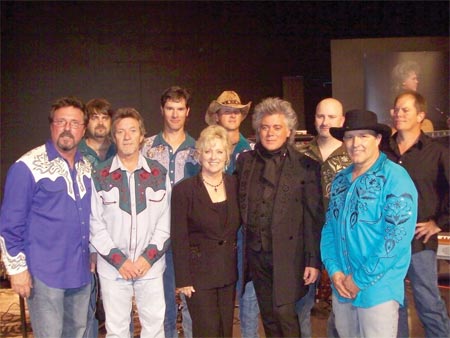 It was early this past summer when Billy Hardy and other local musicians first had the idea to put together a special musical event for Marty Stuart in connection with his Mississippi Country Music Trail Marker dedication.
The origin of the "Marty Party" in October can be traced back to a moment in late June when Hardy was talking with his friend Steve Smith.
The story goes that after hearing that a marker would be placed in downtown Philadelphia, Hardy suggested a musical event involving Stuart and local musicians.
"When it all came about we thought it was a cool idea to do music for an event instead of just having an unveiling," Hardy said.
It wasn't until after the marker was unveiled at the Neshoba County Fair that steam picked up with Hardy and Smith getting invited to a Community Development Partnership meeting to plan the marker dedication.
"It just kind of snowballed from there," Hardy said.
A broad-based committee under the CDP got to work on what was tentatively called the "Marty Party."
Hardy contacted Jeff Stewart of the band Southbound to be the house band for the event and to help select the songs.
Stewart, part of the Philadelphia-Neshoba County Music Association, originally thought about getting the entire group to play cover versions of Marty Stuart songs.
Initially, they chose a dozen of Stuart's songs to perform, but that list was whittled down by half by the time the show started.
"We had 30 days before the show to practice and get everything just right," Stewart said.
Musician Butch Hodgins, a childhood friend of Stewart's, was also called in to help, serving as a liaison between the planning committee and Stuart himself.
Enter Joe Vines with radio stations WHOC-WWSL who was approached to be the master of ceremonies.
It was Vines who suggested the idea of doing a "This is Your Life"-themed show where people from Stuart's past would say a few words and them have him guess who they were.
"It was harder than I thought," said Vines. "Marty's office manager Maria helped a lot with getting in touch with everyone."
Vines said that difficulty subsided when people heard that it was for Marty Stuart.
After that, Vines said that everything just "fell into place."
It was decided early on to get Stuart's original band mates, Hodgins and his brother Ricky, back together.
Hodgins said that he called Stuart about the idea and "he loved it."
Stuart and the Hodgins brothers practiced the song "Wildwood Flower" separately and it was only when all three men were together on stage that all parts of the song came together.
Local talent wasn't the only entertainment for the evening as there was a performance by upcoming Country Music star Danielle Reed and her manager Jennifer Stuart, Marty Stuart's sister.
Reed performed two songs for the show, including "Little Heartbreaker" which came off of Stuart's newest album.
Jennifer Stuart performed with Reed that evening, but her part extended well beyond the stage.
She helped get a few of the recorded messages for the event such as the three-minute message from Dolly Parton, who sang "Happy Birthday" to Stuart.
"Marty absolutely loved it," Jennifer Stuart said.
She was also in charge of keeping the show's surprises from Marty.
Other entertainers taking the stage included Stuart's wife Connie Smith and the couple's pastor from Commerce Christian Church near Tunica, Evelyn Hubbard, who surprised Stuart with a cake and a rousing, hand-clapping rendition of "Precious Lord."
One major change to the program was the inclusion of Marty Stuart himself. The original plan was for local musicians to regal Stuart with renditions of his works.
Then Stuart was convinced to participate.
Butch Hodgins recalled Stuart showing up for sound checks.
"We were getting everything ready and we weren't too sure about what parts Marty was going to participate in when he walked through the door, got a guitar and started running through the sound checks with us, Hodgins said.
"At that point we knew that he was going to be a big part of the entertainment."
Stuart, however, made a few stipulations.
Tickets to the event were already being sold for $10 each but Stuart said that he would only participate if all proceeds from the show were put back to the PNC Arts Council and the renovation of the Ellis Theater, where the event was held.
The proceeds also included funds received from auctioning off two signed posters from the event and future DVD sales.
PNC Arts Council members came together to open the theater for what turned out to be a full house.
Deborah Collins, one of the organizing committee members, said that everyone did their part to make it a great event.
Hardy agreed.
"Marty could have come in and stole the show but he didn't," he said.
Southbound vocalist Stewart said his band got to play with a hometown hero.
Jennifer Stuart expressed her thanks to everyone in the CDP and Arts Council, all of the musical talent and to everyone who attended the show.
"It was an honor and Marty hasn't stopped telling me how happy and honored he was for what the town of Philadelphia has done for him," she said.
By Steven Thomas