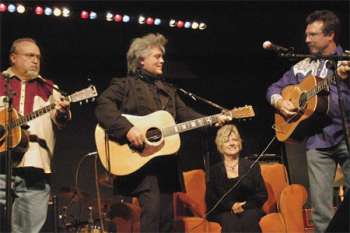 Marty Stuart came home last week to dedicate his Mississippi Country Music Trail marker downtown and wound up in an electrifying two-and-a-half hour jam session at the Ellis Theater where Dolly Parton sang a pre-recorded "Happy Birthday" and he reunited with his boyhood band.
Before the evening was over, the music teacher who taught him his first guitar chord appeared on stage, he teamed up with wife and country music artist Connie Smith for a quiet, lovely, haunting duet and he thrilled the crowd with a solo mandolin performance he dedicated to his dad sitting on the front row.
"The greatest asset anybody that has to leave home could have is friends, family and the solid foundation like I have here," Stuart told a local red carpet crowd at the formal dedication of the marker.
"And the greatest asset that I've ever had is sitting right there, my daddy, mama, my sister, my brother Manuel, my wife Connie. And I include everyone here as family."
Manuel is Manuel Arturo José Cuevas Martinez, the Hollywood fashion designer who supplies Stuart with his stage wear and bet on him early on by giving him an outfit.
As the sun set on one of the first fall evenings this year, hundreds gathered at the corner of Main Street and Byrd Avenue for the dedication. These were not just fans. They were old friends like Betty Seward, who entered him in his first talent show where he lost to a girl twirling a baton.
As the program was about to begin, Stuart reached out into the crowd and warmly greeted Philadelphia Mayor James A. Young and asked him why he wasn't seated in a place of prominence. (Young later said he was not asked to participate in the program sponsored by the Community Development Partnership and Philadelphia-Neshoba County Tourism.)
Stuart arrived in a horse drawn carriage with his wife about a half hour before the dedication and worked the crowd, signing autographs and patiently posing for pictures.
Later at the Ellis, in a "This is Your Life" style program, Stuart was greeted on stage by influential figures from his past, including his mother.
"Everywhere I've ever had to go in my life, I've had to introduce myself as being from Route 8 Kosciusko Road, Philadelphia, Mississippi," Stuart said at the unveiling on the street corner. "Til the day I die, I'll do this."
As he talked about truck driving songs and making a living, 18-wheelers loaded with logs and sawdust lumbered by, the roar of their engines drowning him out.
Alderman-at-Large Janice Payne had to pause as she read a biography of Stuart, commenting that it was tax dollars passing by. Stuart himself raised his right arm in a pulling motion as a truck passed in a failed attempt to convince the driver to blow his air horn.
Stuart said he recognizes that he is part of a great Mississippi creative legacy. He went on to say that he wanted to reinvigorate and save traditional country music.
"I am part of one of the greatest legacies God has ever created," he said. "I thank you for the good times and the bad times and for welcoming me with open arms."
Stuart spoke of the marker symbolizing love and grace.
"Thank you for this honor. Every time you drive past this remember one thing, it stands for unity. It stands for love. It stands for God's grace on a life," he said.
"God never took his hands off of me. The prayers of that lady right there, that lady right there and that family right there never lifted off of me. I thank you for the good times and the bad times and for welcoming me with open arms. Thank you very much."
Stuart's parents, Hilda and John, where present as was his sister, Jennifer.
The formal dedication also played host to several people who honored Stuart with remarks.
Ward Emling, director of the Mississippi Film Office, said that on any street corner in any town in Mississippi another musician, writer, artist, statesmen or historian could be celebrated for the work that they have done.
However nowhere else in Mississippi could people stand on a corner in a town and celebrate a musician, writer, artist, photographer, statesman and historian all in one person.
"Marty Stuart is a special Mississippian," Emling said. "In every moment, in every place, he makes us proud. He's an extraordinary talent, a dedicated man and one of our great treasures."
Malcolm White, executive director of the Mississippi Arts Commission, said that Stuart was crucial to getting the Country Music Trail started.
White gave an extended metaphor about the marquee of the nearby performing arts theatre.
"The sign of the Ellis is blinking and the E-L-L is burned out and the I-S is on," he said. "The neon I-S is that Marty Stuart deserves this marker. The neon I-S is that this is the right thing to do. The neon I-S is that this is the right thing for Mississippi to embrace our arts, our culture, our history, Civil War, Civil Rights, architecture, literature, music and sacred spaces."
State Sen. Giles Ward offered remarks as did Rep. Scott Bounds and the reigning Choctaw Indian Princess Mahlih Rene Vaughn on behalf of Miko Beasley Denson.
Stuart said he's never forgotten Mississippi.
"That train that ran through the backyard of my house I just wanted to get on it and ride someplace and play country music," he said.
"I'll tell you what. I have never forgotten Mississippi. It lives deep within my heart."
His parents were honored guests at the event billed as the Marty Party.
"I think it's great. I think it's real good. I think it's really good," said John Stuart after the performance at the Ellis.
The Stuarts have been gone from Neshoba County for 40 years, but John Stuart said, "I'd be back tomorrow if it was left up to me."
Hilda Stuart, was equally pleased with the evening.
"Oh, this is great. I'm telling you, it couldn't have been better. I know he's (Marty's) so pleased."
When Marty Stuart was growing up there was so much he enjoyed, she said, like making the rounds on the square, going to Hamill's Drug Store and then to Stribling's.
Clayton Lewis was mayor then and she said he'd say, "'Marty let's go get a horn of ice cream.' He called it a horn."
Asked what's changed in four decades, Mrs. Stuart said:
"You know what, the town has changed in looks some, but the spirit's still here, the people we knew tonight, I've just been overwhelmed by everybody coming up and telling me 'I bet you don't know who I am. It's just been great.'"
As the theater emptied, Marty Stuart walked off the stage and up the right aisle to seek out Howard Cole, the retired owner of radio station WHOC, a major influence in young Stuart's life with its eclectic mix of music.
As Mr. Cole sat among the empty rows of seats near the back of the dimly lit theater, Stuart simply leaned down and thanked him for his influence and they conversed for a while before the country music artist was off to cut birthday cake at Ye Old Deli across the street.
By Steven Thomas and Jim Prince