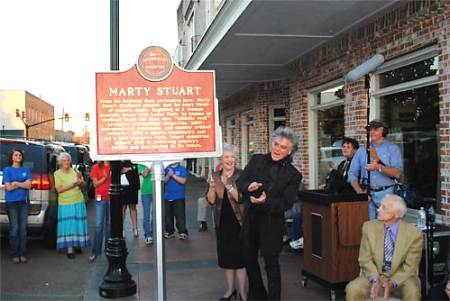 A crowd of friends, family and fans welcomed Marty Stuart home Thursday to dedicate a Country Music Trail Marker in his honor at the corner of Byrd Avenue and Main Street.
Afterwards he entertained the crowd during a "Marty Party" inside the Arts Council Theatre.
As a special treat, he and former childhood band members Butch and Rickey Hodgins performed one song together. The Hodgins brothers were members of Stuart's first band while growing up in Philadelphia.
Stuart requested that the marker be unveiled during the Fair and eventually placed on the block where he bought his first guitar at Turner Hardware on Main Street. His mother worked at the old Bank of Philadelphia, which was located on that corner where the law office is now. He also got his hair cut at the nearby barbershop.
At least 30 other Country Music Trail markers will be situated around the state and will feature a variety of other artists, including Charley Pride, Conway Twitty, Jerry Clower, Faith Hill and Paul Overstreet, among others.
Stuart's marker is the second on the trail as one in honor of Jimmie Rodgers was placed in Meridian earlier this year. Stuart's marker was unveiled this summer at the Neshoba County Fair.
He told the crowd gathered at the grandstand that Neshoba County has had a big influence on him and his career. He recalled playing at the grandstand as a youngster with the "Musical Rangers."
"We had one of those clip on magnet signs to go on the car to make us look important," Stuart said.
Born in Philadelphia on September 30, 1958, Stuart is the son of John and Hilda Stuart.
By Steven Thomas