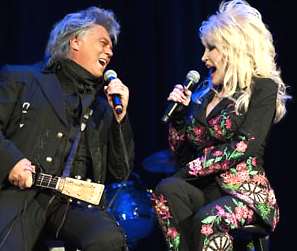 Marty Stuart sold out the historic Ryman Auditorium this week for his 10th Anniversary Late Night Jam on June 8. The event raised over $30k for MusiCares with a portion also going to Dolly Parton's Imagination Library.
Guests included country music icons Dolly Parton, Mel Tillis and Connie Smith, along with The Quebe Sisters Band, Doug Kershaw and surprise guests Ricky Skaggs and Duane Eddy.
Marty Stuart & His Fabulous Superlatives gave an unforgettable show, demonstrating seasoned showmanship. The band was tight with pitch-perfect vocals. Stuart's mandolin solo made us all watch with our mouths open and listen in complete awe.
Parton joined on stage and performed several of her classics, including "Jolene," "Coat Of Many Colors," and "9 To 5." Stuart then joined Parton for a special rendition of "I Will Always Love You." Included in the often-hilarious banter with Stuart, Parton gave her trademark laugh after Stuart jokingly made a reference to Willie Nelson wondering if she had any "rolling papers." Parton also added she was very excited about her upcoming tour starting in Knoxville.
Among her performances, Connie Smith shared her first meeting with country music legend, Marty Robbins. Smith's vocals were hauntingly flawless and brought everyone back to the early days of country music.
Highlights also included Mel Tillis and Ricky Skaggs each singing their classic hits and sharing funny stories, making us feel we were hanging out with them back stage. Marty Robbins, Maybelle Carter, and Johnny Cash were also present. Trust me, they were there.
There were many other magical moments including Stuart bringing fashion icon, Manuel, on stage, Eddie Stubbs adlibbing chicken, funeral home, and Manuel radio commercials, and cloggers raising the energy in the house to full tilt.
The show ended with the entire audience participating in the classic, "Will The Circle Be Unbroken," and when the last note was belted out around 1:30am, we knew we had all been to church.
Can one show really change the way you look at country music? This one did. It's easy to forget the incredible artistry of authentic traditional country music when we are focused on current radio adds and chart placement. Thanks to Stuart and his fellow guest icons, this night was a great reminder of our history, our heritage, and perhaps most important, the value traditional country music still has today.
By Sherod Robertson