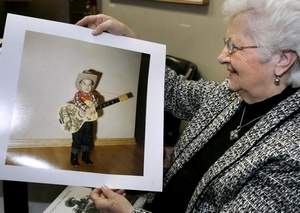 The story of country musician Marty Stuart begins long before he was born. It goes back to a Mississippi cotton field in 1949, to the trees reflected in the water at sundown in a farm pond. It extends to a Stuart family reunion in 1958, the year he was born, to an uncle cooking over the coals of a family's first charcoal grill and a cousin's baptism in the family pond.

Marty Stuart may weave many a tale through the music strummed on his mandolin. But his mother uses a different instrument to tell the story.

"I tell you, I did all of this so I'd have something left to preserve for my kids," the 79-year-old Hilda Stuart, a self-professed shutterbug, says, waving a hand toward a box of enlarged photos waiting for framing and display at The Arts Center of Cannon County in Woodbury. Hilda's there with daughter Jennifer, prior to a showing of the work, helping to get the exhibit together. "I knew someday I'd have kids and wanted to have lots of pictures to show how I grew up."

With help from Jennifer and others, Hilda Stuart compiled those photographs into a memory book she calls Choctaw Gardens from the name of a neighborhood in Philadelphia, Mississippi where she and husband, John Stuart, began raising their two children, Marty and Jennifer.

The photos capture special moments the family enjoyed, a first birthday party for Jennifer, Christmas mornings with Jennifer hugging a doll, Marty wearing his cowboy outfit and playing a guitar especially ordered for him from Tupelo, Mississippi.

Hilda shares scenes from the family's vacations in Panama City, from John's time in the service and Marty holding up his Johnny Cash albums, later singing into a microphone in the family home with Jennifer.

In one photo Marty's eyes shine and his smile lights up as between him and Jennifer stands country music star Connie Smith, her arms around them both, her head slightly inclined toward the 12-year-old Marty. She posed for a picture with the Stuart siblings when she came to town for the Choctaw Indian Fair in Philadelphia, Mississipi.

"Connie had been my favorite singer," Hilda Stuart recalls. After that meeting at the fair, Connie Smith became one of Marty's favorites, too.

"That evening he said he'd marry Connie one day," Hilda Stuart says.

She didn't believe it at the time, she admits. But 26 years later, Marty and Connie were wed, and "I'm awfully glad they did," Hilda Stuart adds.

Marty left Mississippi and started touring with Lester Flatt when he was 14, Hilda says, pointing to a picture in the book of Marty on stage with Lester Flatt and the Nashville Grass during the Arkansas Bluegrass Festival in 1972. The next page shows him playing with the King of Bluegrass, Bill Monroe, on the same stage.

"We couldn't have let him go with just anybody, but Lester and Gladys (Flatt) helped take care of him until we could move," Hilda Stuart says.

John was able to secure a position at the Chromalox plant in Murfreesboro. Hilda worked at a Murfreesboro bank, and they moved the family to Smyrna in the '70s. Hilda snapped photos of it all.

A particularly touching photo shows Marty in 1975, back stage at the Grand Ole Opry with Minnie Pearl's arm around him. Neither of them looks at the camera as they lock eyes and the legendary Minnie Pearl smiles at the young Marty with such encouragement, so much tenderness.

The next page, Hilda's photo shows her husband, John, backstage with Marty Robbins, Marty Stuart's namesake.

"I wanted to be the one to have my picture taken with Marty Robbins," Hilda admits, "but I let John have that spot."

After all, Hilda Stuart is the woman behind the camera, capturing the moments that make her family whole.

Perhaps she says it best as she closes out the book: "I was just the Momma."

But, oh, Jennifer will tell you and Marty, too: There's no job more important than that.

"I've never known anyone on earth with a kinder and more loving heart than Hilda Stuart," Marty Stuart writes in his afterward to Choctaw Gardens.

"My mother is the thread that keeps our family bound together," Jennifer reads aloud from the afterward she wrote for book. "She is a genuine southern lady and solid as a rock. …

"I cherish this book. It is filled with my fondest memories — the beach, birthdays, backyard buddies, big hairdos and the music that has always filled our home and our hearts. Thanks to Mother, she has always been there with her camera to capture the magic."

And then Jennifer's eyes begin to tear as she looks up from the words on the page and directly into her mother's eyes. "Mom, I am so proud of you and this book. You are our blessing. I love you.


By Sandee Suitt