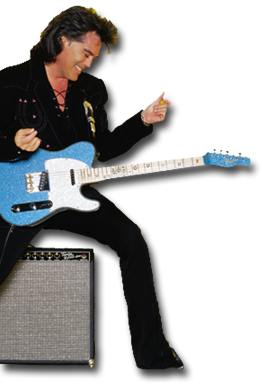 Marty Stuart is a little something of everything: musician, songwriter, actor, author, collector, historian, photographer, businessman. You name it, he's done it, or is thinking about doing it. He's come a long way from the small town of Philadelphia, Mississippi in more ways than one. But as high as he has climbed on the ladder of stardom, Marty Stuart retains a definite sense of rootedness in the traditions of the rural South, traditions permanently embedded in the music he loves and to which he has contributed so much over the last three decades.
No matter what projects he might tackle, country and bluegrass music is his love and foundation. From his childhood growing up in Mississippi, collecting country records, music was an ever-present source of enjoyment for Stuart.
"I think growing up there kind of gave me the basics of life," he says. "Mississippi was a very musical place. Jimmie Rodgers came from 35 miles down the road. Muddy Waters came from 120 miles north, and Elvis came from 150 miles north. And there were people like Tammy Wynette. The state was just full of music."
As Stuart gravitated to music, his instrumental talents emerged rather quickly. At age 13, he went out on the road with bluegrass legend Lester Flatt, playing rhythm guitar and later mandolin. After Flatt's death in 1979, Stuart played with fiddler Vassar Clements and acoustic guitar great Doc Watson before joining another legend, Johnny Cash, for a six-year stint he considered a dream come true.
"When I was a kid," says Marty, with his usual sense of humor, "the only two dreams I had were to meet Johnny Cash and Flatt & Scruggs. As it turned out, the only two steady jobs I've ever had were with Johnny Cash and Flatt & Scruggs.
While Marty felt a deep love for and identification with traditional country and bluegrass music, an experience while touring with Lester Flatt in 1973 made an indelible mark on the young musical prodigy and inspired the unique brand of "hillbilly rock" that would eventually become his trademark.
"We were playing in the midwest that night," he says, "with Gram Parsons, Emmylou Harris and the Eagles. I saw all these fabulous musicians mixing country with rock and it was a kind of epiphany for me. Gram and I jammed backstage and I saw that country and rock could come from the same place. That one particular show changed my life."
Marty's hillbilly rock vision emerged in the early '80s when he released his first solo album, Busy Bee Cafe, which included many of his old friends -- Cash, Earl Scruggs and Watson all contributed to the album. In 1986, Stuart left Cash's band and embarked full time on his solo career. His self-titled release that year yielded four minor hits, including his first significant hit in "Arlene."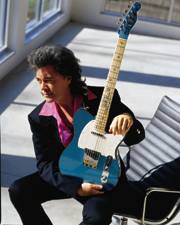 Sporting the slick black mane of a '50s rocker and an unabashedly Nashville wardrobe of Nudie suits, Stuart's image seemed a blossoming of the vision of country music he had had a decade earlier. Stylistically, Stuart's emerging style fused honky tonk with surging rockabilly elements -- with generous helpings of flashy, often bluegrass-tinged fretwork -- and helped shaped the "New Country" that revitalized Nashville in the '80s.
While his early efforts garnered him a great deal of critical acclaim and a handful of hits, the '80s weren't always rosy for Marty Stuart. A string of incompatible producers strained his relationship with his record label, which subsequently dropped him. Amid temporary personal and professional setbacks, Stuart went back home to Mississippi where he returned to playing gospel and bluegrass, music he still finds spiritually rejuvenating.
"Playing bluegrass is like going back home for me," he says. "It's like my foundation. Playing it always makes me feel better."
In 1989, Marty signed with MCA Nashville and released his Hillbilly Rock album, perhaps the defining album of his work in the '80s. Featuring such hits as the title track and a version of Cash's "Cry, Cry, Cry," Hillbilly Rock was more than a comeback for Stuart, it was the breakthrough he had been working on for so many years, both for him personally and for his vision of country music.
The early '90s brought Stuart hit after hit -- most notably his collaboration with Travis Tritt like "The Whiskey Ain't Workin'," -- and in 1992, one of Marty's most cherished dreams was realized when he became a member of the Grand Ole Opry.
"It was truly another dream come true," says Stuart. "I had grown up listening to the Opry, and to be a part of it was a great honor."
The '90s have seen Marty Stuart rise to the pinnacle of success, both as a musician and as a member of the country music community. Stuart has been nominated for eight Grammy awards and has won three. As the current President of the Country Music Foundation, Marty works tirelessly to preserve the legacy of country music that is represented in such Nashville institutions as the Country Music Hall of Fame and the Grand Ole Opry.
"One of my ongoing causes, says Stuart, "is to bring the Grand Ole Opry into the 21st Century."
Throughout his career, Stuart has been a devotee of the Fender Telecaster and perhaps stands as one of the premier practitioners of Tele twang. As a serious collector of guitars and country memorabilia, Marty owns some of the most famous country-related Fender guitars in existence. This summer, the Fender Custom Shop is proud to announce the release of a Marty Stuart Tribute Telecaster.
Reflecting Marty's artistic leanings and sense of style -- he is an accomplished photographer and dabbles in painting -- his Tribute Telecaster is finished in a unique Brilliant Stratosphere Sparkle color (ice blue) which he helped develop, as well as an intricate inlay that includes horseshoes and his initials. Marty drew features from his favorite collectible Teles, most of which he used in the recording of his new release, The Pilgrim.
The Pilgrim, released on MCA Nashville in June, is a concept album -- indeed a unique thing in country music -- which Stuart describes in characteristically grand terms.
"It hit me that the odyssey of country music is like a huge tapestry," he says, "with everything tied together. It's about all of human experience."
According to Stuart, the album was inspired by the death of bluegrass king Bill Monroe and is based on the true story of a complicated social triangle that ends in suicide. The concept's dark, outlaw elements are blended deftly with an overarching sense of redemption, as evidenced on the first singles "Red, Red Wine and Cheatin' Songs" and "The Greatest Love of All Time."
Guest stars on The Pilgrim include, again, many of his old friends: Johnny Cash, Earl Scruggs, Emmylou Harris and legendary country songstress (and Marty's wife) Connie Smith.
For all his down-to-earth humility and his reverence for traditional country forms; and for all his success and accomplishments, The Pilgrim is perhaps the country music event of the summer and provides a key to the real genius of Marty Stuart -- he is not stuck in the past; he has continued to try new things and to dare to pursue visions of his own.
Written by Eric Kingsbury
---
The Fender Custom Shop Limited Edition Marty Stuart Tribute Tele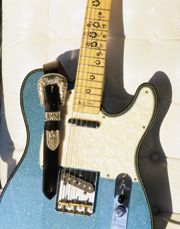 The Fender Custom Shop Limited Edition Marty Stuart Tribute Telecaster incorporates features of four of Marty Stuart's favorite historical Telecasters. The neck profile was taken from a '55 Esquire once owned by Mick Ronson. The checkerboard binding and sparkle finish were inspired by Buck Owens' original '63 gold sparkle Tele and Don Rich's '67 silver sparkle Tele. The pickups and electronics were based on Clarence White's '54 Telecaster with original B-bender system.
These classic player features, combined with an intricate inlay, a unique Brilliant Stratosphere Sparkle finish and a custom strap -- made especially for Fender by the Edward H. Bohlin Company, saddle-makers -- exemplify Marty's personal appreciation for tradition. originality and style.
Specifications include a two-piece swamp ash body and one-piece maple neck based on a '55 Esquire. All hardware is nickel-plated, with brass saddles, and a moto pickguard as used on mid-'60s Fender guitars. The pickups are Fender "Broadcaster" pickups wound to exacting specs with a mid-'60s wiring configuration.