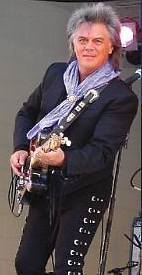 Town and Country Days closed for another year Saturday with a popular show by Grand Ole Opry Star Marty Stuart and The Fabulous Superlatives on the stage and ATV drag racing on the track.
President Merle Lemasters said the 2008 fair truly lived up to its slogan—"A Fair To Remember".
"Everything went really smoothly," he said, despite "a few little incidents." And while he said attendance was down some Tuesday and Wednesday, they had excellent attendance on Thursday, Friday, and Saturday.
"The weather really treated us well," noted Lemasters. "Bucky Covington drew a really nice crowd and Marty Stuart put on a good show."
While they don't have a final financial tally yet since income from concessions is still coming in, Lemasters said, "It looks like everything went just about like last year."
He also said that while total attendance was down somewhat, if last year's Sunday attendance was deducted, the gate numbers were about the same.
This year Town and County Days did not open its gates on Sunday, as it has in the past.
By Amy Witschey