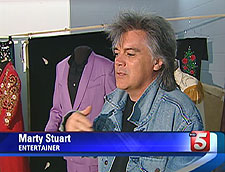 Country music legend Marty Stuart has opened up his private collection of memorabilia.
It has been called the largest collection of its kind in the nation.
Called "Sparkle and Twang-- Marty Stuart's American Musical Odyssey," the exhibit will feature more than 40 years of musical history including personal items from Hank Williams, Johnny Cash and Elvis Presley.
Stuart said he started collecting the items as a child and the more it grew, the more he realized "how much this stuff apparently would mean to American culture."
The exhibit opens June 6 and runs to November 11 at the Tennessee State Museum.