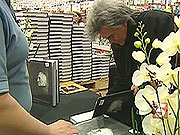 Country music star Marty Stuart was out signing books Saturday signing copies of his new book, Country Music: The Masters at Costco in west Nashville on Charlotte Pike.
The book helps bring country music to life with pictures and stories of those who were the founders of the music.
One of the most notable things about the book is the cover, a black and white picture of legend Johnny Cash. Stuart says he wrote the book to document the roots of country music.