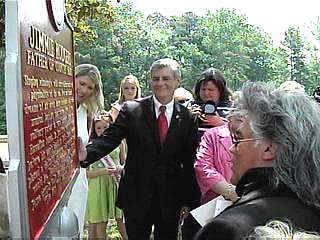 Jimmie Rodgers became the first recognized in Mississippi's Country Trail. A marker was unveiled at Oak Grove Cemetery in Meridian.
Country entertainer Marty Stuart was joined by Lt. Gov. Phil Bryant and author/historian Barry Mazor for a ceremony Tuesday.
Rodgers also worked on the railroad at one time and was often called "The Singing Brakeman."
As Stuart spoke about Rodgers, he couldn't help point out the train whistles in the distance.
"There was no doubt that we should start in Meridian with the marker for Jimmie Rodgers, who is "The Father of Country Music", said Mary Beth Wilkerson, director of tourism for Mississippi Development Authority.
Much like the Mississippi Blues Trail that now garners over 100 markers, the new Mississippi Country Music Trail will celebrate and honor Mississippi's finest country music stars. Country music star Marty Stuart helped to begin what looks to become a huge tourist attraction.
"Jimmie Rodgers is near and dear to my heart, so I simply asked the question, could we have a country music trail?" said Stuart. "Lt. Governor Bryant, Mary Beth Wilkerson, David Vowell from Philadelphia all jumped on. The Senate and House passed it and we sang a country song today. It was a great, great journey."
"More important than my love and Marty's love is the love of the people of the state of Mississippi's love for country music," said Bryant. "It is going to have a huge economic impact on the state, as we bring people from all over to the birthplace of country music. And the first one is here in Meridian, Mississippi."
The next marker will be placed just one county away from Meridian, in Philadelphia, which is the birthplace of Marty Stuart.
"To be mentioned and placed alongside of any of the people mentioned here today is really an honor within itself," Stuart said.
The trail will also feature Charley Pride, Conway Twitty, Jerry Clower, Faith Hill, and Paul Overstreet, just to name a few.
Thirty markers are set to be unveiled in the near future.