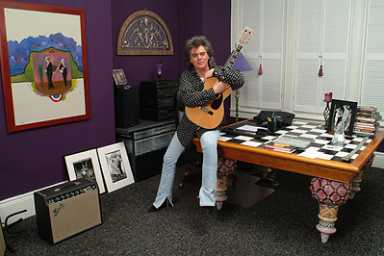 Where: 119 - 17th Avenue South, Nashville, Tennessee
What you see: Not-so-pure country. Despite keepsakes like Hank Snow's rhinestone belt and Lefty Frizzell's right boot, the office of this honky-tonk singer, songwriter and producer isn't all about "Hillbilly Rock." Years after breaking into the top 10 with the hit song -- on an album of the same name -- Marty Stuart can rest his boots on a whimsical, handmade desk that bears the signature checked, striped and floral pattern of upstate-New York design house MacKenzie-Childs. His Music Row headquarters, set in a historic home with paned windows and wooden shutters, is just as eclectic. Walls here are painted dramatic shades of red, black and aqua. But this president's two-room suite is deep purple, with colorful art ranging from chandeliers painted by Ulla Darni to a tapestry embroidered by Rose Clements. Mr. Stuart drew from his stage-wear images to design the wall-hanging himself. And he worked with a friend to create the tooled-leather mirror and table, embellished with silver stars. An American flag was made in 1958, the year Mr. Stuart was born. A wrought-iron arch was crafted in France. The performer, who served as the president of the Country Music Foundation for six years, was only 13 when he came to Nashville to join Lester Flatt's bluegrass band. So three years ago, he scheduled an "intermission" to compose, produce and redecorate his office. To make room for the handiwork of others, he took down the gold and platinum records, though he decided against boxing his Grammys. He also limited the display of country music memorabilia. Mr. Stuart has donated the bulk of his renowned collection, some 20,000 items valued in the millions to the University of Mississippi's Center for the Study of Southern Culture -- though this picker still plays Hank Williams Sr.'s guitar.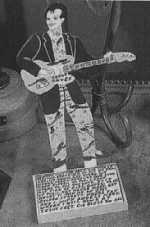 What he sees: "Endless possibilities. This office isn't just about country music, even though that's the reason I'm here. It truly is about the joy of creating. I see the world as a big treasure hunt, and the things I respond to so much are done by fellow artists, whether they be musicians, poets, painters or tailors. Coming in here and seeing all the colors and great artistry fires me up. And the more creative I feel, the more money I see coming through the door. It's that simple."
By Nancy D. Holt