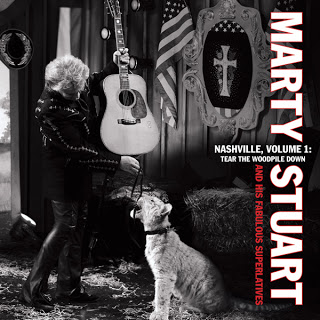 That Nashville Sound is looking back on the year behind us and reminded that in the day of digital music, the amount of quality music available to the listener is near limitless. Our favorite 2007 album was the Alison Krauss & Robert Plant album Raising Sand, the top spot on our 2008 list went to Lee Ann Womack's Call Me Crazy, 2009 went to Eric Church's Carolina, 2010 was Zac Brown Band's You Get What You Give, and last year wasPistol Annies' Hell On Heels.

But 2012 had some terrific albums as well that will go down as some of my big music collection's favorites. The fifteen albums are a wide variety of country genres from more contemporary country to traditional country. We present to you… That Nashville Sound's Top Ten Albums of 2012…

1. Marty Stuart - Nashville Volume 1- Tear The Woodpile Down - Stuart is the flag-bearer for keeping traditional country alive in Nashville. As Little Jimmy Dickens slows downs in his 90's, Stuart is also becoming the face of the Opry. Here, he delivers a foot-stomping, barn-raising, jam-session collection of great songs that reminds that he's still at the very top of his game.