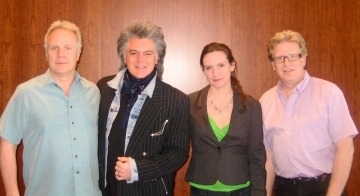 Country music icon Marty Stuart has signed with Sugar Hill Records and is set to release a new studio album this summer. Stuart and the famed independent label have a history together that dates back 27 years, when his first solo album, Busy Bee Café, came out on the label in 1982.

"Everyone here at Sugar Hill Records is excited to have Marty return to the label…it's very fitting since Sugar Hill released his solo debut many years ago," said Gary Paczosa, Vice President of A&R for Sugar Hill Records. "More than anything though, it's about this new record. It's an amazing piece of work…deep, thoughtful, soulful, rich and COUNTRY. I can't wait for people to hear it."(Pictured left to right: Gary Paczosa, Vice President of A&R at Sugar Hill Records, Marty Stuart, Molly Nagel, Sr. Director of Artist Development at Sugar Hill Records, and Marc Dottore, Marty's manager.)
"I found a building full of kindred spirits in the people at Sugar Hill Records," said Stuart. "I appreciate what they represent. For years I've respected their support of American roots music and the arts. I admire the integrity of the Sugar Hill council."
"I have moved through a series of roots recordings in the past few years while working my way back home. Home being traditional country music," continued Stuart. "The new album, Ghost Train (The Studio B Sessions), is the reflection of the lasting power of a genre and a culture in which I grew up in and love very much. Personally, this is a landmark project. To stand alongside of the Fabulous Superlatives and some of country music's most notable musicians in a room where so much of country music's legacy was forged is beyond words. This project represents a new chapter of life for me, the Superlatives, Studio B and traditional country music. I couldn't ask for more."

With a music career spanning nearly 40 years, the GRAMMY-winner is going full steam ahead with the upcoming release of his 14th studio album, new episodes of the highly rated Marty Stuart Show airing now on RFD-TV and a new tour on the horizon.

Sugar Hill Records' dedication to quality roots music has served the label for over 30 years, cementing its reputation as one of the most important independent record companies in the industry. In 1998, The Welk Music Group acquired Sugar Hill, placing it alongside sister label Vanguard Records. Nashville-based Sugar Hill has been home to some of the most stalwart names in bluegrass and roots music and continues to cultivate a roster that represents the best in Americana music. For more information, please visit sugarhillrecords.com.