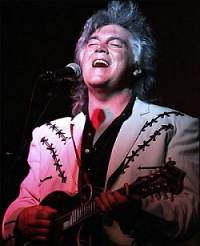 Midway through the set, Marty Stuart said a country song written and sung well touches the heart.
Then he launched into the Lefty Frizzell/Johnny Cash classic "Long Black Veil" that was more melodic and less stark — more textured, you might say.
Marty Stuart plays the mandolin while putting his spin on some bluegrass gospel classics.

That also sums up Stuart's presentation of some two dozen originals and choice covers that touched the heart with a variety of styles, from hard country, country rock, bluegrass and gospel to polka and surf rock.
That's classic Stuart, proving that being Nashville's "international ambassador" is more than a title, it's a calling for the consummate entertainer.
His performance with his touring band, Marty Stuart and His Fabulous Superlatives, on Friday night was the first big show open to the public at Rio Cibolo Ranch, which for two decades has catered Texas hospitality for private functions with entertainment by the likes of Dwight Yoakam and Robert Earl Keen.
With trademark sky-high, swept-back hair and wearing a pale-blue western jacket with black stitching, Stuart owned the stage but proudly shared it with his equally sharp-dressed and truly superlative band, spotlighting guitarist Kenny Vaughan, bassist Brian Glenn and drummer Harry Stinson.
He reprised such early 1990s Top 10 hits as "Burn Me Down" and "This One's Gonna Hurt You (For a Long, Long Time)" with his signature blend of hard country honed to a rock edge.
A top-shelf string player, Stuart returned for an encore with a fiery bluegrass mandolin solo that morphed into Bob Wills' "San Antonio Rose."
Bill Monroe's bluegrass gospel "I'm Working on Building" was treated to hot picking and cool harmonies that swept the audience like the breeze beneath the venue's cavernous awning, along with an a cappella "Angels Rock Me to Sleep."
Bassist Glenn threw a curve with lead vocals on an organic bluegrass take on the Bee Gees' disco anthem "Stayin' Alive."
With Stuart and the Superlatives pumping its lifeblood, country music is staying alive, too — and touching hearts.
By John Goodspeed