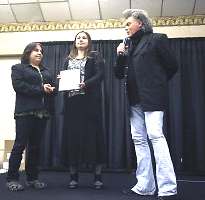 Musician Marty Stuart, right, presents a plaque to Becky Red Bow, left, and her half-sister Stardust Red Bow to honor Buddy Red Bow during the Oglala Lakota College Spring Consortium Conference at the Best Western Ramkota Hotel in Rapid City on Sunday, March 25, 2012. (Aaron Rosenblatt/Journal staff)
A crowd gathered Sunday night at the Ramkota Hotel to watch a presentation honoring Buddy Red Bow, an Oglala Lakota country singer who produced several records in the 1980s and 1990s and died in 1993.
"I always thought of Buddy as a correspondent from this world, the way Hank Williams was a correspondent from Alabama or Johnny Cash was a correspondent from Arkansas," said Marty Stuart, a country singer who is part Choctaw and married his wife on the Pine Ridge reservation. "He simply told our stories from our culture, and if you lived down in Mississippi and you wanted to know what was going on in this world, the best thing to do was get a Buddy Red Bow record."
Stuart presented a commemorative plaque honoring Red Bow to Stardust and Becky Red Bow, Buddy Red Bow's daughters. After presenting the plaque, Stuart played several songs he had written about South Dakota, including one about the Badlands and one about areas on the Pine Ridge reservation.
About 75 people gathered at the event. Stuart told how he first came to the Pine Ridge reservation as part of Johnny Cash's band in the early 1980s. He loved the area so much that he and his wife, Connie Smith, later married on the reservation.
"There was an entirely different feeling up here than there was in my home in Mississippi," Stuart said. "That night I fell in love with the Lakota people and I never quit coming back."
Red Bow, who was born Warfield Richards, was adopted at an early age by the Red Bow family, his daughters said in a tribute video. He grew up on the Pine Ridge reservation at Red Shirt Table and went to middle and high school in Rapid City, according to the video. He dropped out of high school to be an actor and later went to Vietnam as a Marine, his daughters said.
Red Bow, who died in 1993, produced three albums and his most popular songs included "Indian Love Song," "Journey to the Spirit World" and "Run Indian Run."
The tribute was part of the American Indian Higher Education Consortium student conference, which kicked off in Rapid City Sunday.
Tom Shortbull, president of Oglala Lakota College, said one of his favorite Red Bow songs is "Indian Love Song."
"Buddy Red Bow was a great contemporary Lakota music artist," Shortbull said.
Red Bow was inducted into the Native American Music Awards Hall of Fame in 1998, the second inductee after Jimi Hendrix.
By Ruth Moon