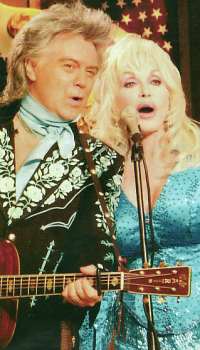 History with a whole lot of heart was made at RFD-TV in Nashville, Tennessee recently as Dolly Parton made a guest star apperaance on The Marty Stuart Show. Scheduled to air on May 29, 2010, you won't want to miss this spectacular episode featuring Dolly singing her signature song, "Coat Of Many Colors" and the blockbuster, "Jolene." Marty Stuart and Dolly also deliver a powerful and inspirational duet with "Daddy Was An Old Time Preacher Man." Cole Porter would be proud.
The Marty Stuart Show packs its own power each and every week with Connie Smith, Leroy Troy, announcer Eddie Stubbs, The Fabulous Sueprlatives, and of course the charismatic host Marty Stuart. If you haven't tuned in yet, you are missing the best in country music on television. An all-star line-up continues in Season 2 of The Marty Stuart Show including Merle Haggard, Vince Gill, Patty Loveless, and the great Kitty Wells.
RFD-TV has been proud to air the Porter Wagoner Show with classic Porter and Dolly performances and could not be more pleased to have Dolly make a new network appearance on The Marty Stuart Show in this the 10th year of broadcasting for RFD-TV.
Join us in celebrating and tune in on Saturday, May 29, 2010 for this very special night of The Marty Stuart Show starring Dolly Parton.