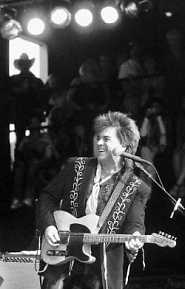 There's a fairly well-known flower shop in Nashville that's been around since the days of A.P. Carter and Jimmie Rodgers called Emma's and they tag all their radio spots by calling themselves "the superlative florist."
It caught Marty Stuart's ear one day as he was driving around town and he decided to call his touring band the Fabulous Superlatives. It's a lot of name for a measly trio but then these guys are pretty hot.
Bassist Brian Glenn is lesser known but Kenny Vaughan has worked with people like Patty Loveless and Lucinda Williams and can play in the classic country style of the '50s and '60s, perfect for Stuart's material. Drummer Harry Stinson is best-known of all after playing with everyone from Hank Jr. to Neil Diamond, Emmylou Harris and Etta James.
Philadelphia, Mississippi's Stuart has been off the charts for a good five years now -- "an intermission," he calls it -- but he isn't one to sit still long and just last week announced the launch of a new label under the Universal South umbrella called, wait for it, Superlatone Records. And the first three Superlatone projects are already recorded.
"They're done, they're mastered, they're in," says Stuart. "The first one is called Soul's Chapel, it's a Mississippi gospel record that's a reflection of my upbringing and the kind of music I listened to pretty much every day, especially on Sunday around Philadelphia, Mississippi. The Staples Singers have always been like family to me, Pops Staples has always been one of my great friends and one of my favourite guitar players, so Mavis gave me Pops' guitar and that kinda started this whole project."
Mavis Staples also appears on Soul's Chapel, which will be out the end of August followed by Marty Stuart & His Fabulous Superlatives Live at the Ryman, a live bluegrass record, plus Badlands, a collection of ballads of the American native.
Other than making country music Stuart's other great passion has always been collecting country memorabilia.
A prodigy, he moved to Nashville as a kid working for Lester Flatt and was a regular at the Ernest Tubb Record Shop, became known for his collecting over the years and wound up with amazing stuff, all kept in a warehouse.
He has an Elvis sweater from the early hillbilly cat days, a Johnny Cash Gibson guitar, a Ray Price stage outfit, Lefty Frizzell's right boot and -- it is to sigh -- a 1949 Martin guitar that belonged to Hank Sr. Plus a million autographs. Plus songbooks. It's all been bought by the Center For Southern Culture Study at the University of Mississippi.
When asked what was the coolest thing he had, Stuart didn't miss a beat: "Connie Smith," he said of his wife of nine years, the '60s country star 16 years his senior.
Like Smith, it seems Marty Stuart's days on the hit singles front rack might be over for good but the man who gave us "Hillbilly Rock" and "Tempted" is busy enough and insists he really doesn't care about chasing fame and fortune up and down charts anymore.
"That's a hollow victory," says Stuart. "It doesn't have a lot to do with the merits of the song anymore, it's about the size of the pocketbook."
By John P. McLaughlin