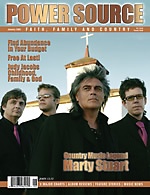 Marty Stuart is country music's renaissance man. He has scored six top-ten hits, one platinum, five gold albums, and four Grammy Awards. But his success proves the difficulty of gauging a career simply by charts alone. He has made lasting music as a front man and in collaboration with virtually every major roots music figure of his era, from Lester Flatt to Bob Dylan. He has evangelized for country music around the world, eulogized the departed legends of the field, and identified and encouraged talents of the future. Stuart has produced records for some of the most distinguished artists working today, and many famous names have chosen to record his songs. Stuart's energetic enthusiasm has gone outside music, yielding impressive work as a photographer, writer, collector and arts executive.
Marty entered the business at the age of 12. Philadelphia, Mississippi, where he was born and raised, lies thirty-five miles northeast of Meridian, the hometown of Jimmie Rodgers. Locally, Stuart was known as a prodigy; by the age of twelve, his string-instrument playing had led him to a road gig, playing mandolin with the Sullivan Family Singers. "I began appearing with them when I was 12 years old," Stuart says. "We played Pentecostal churches, camp meetings, bluegrass festivals and George Wallace campaign rallies all throughout the South that summer. It was baptism by fire into a wonderfully archaic brand of church-house rock and roll. I always felt the presence of the truth inside that music." At a 1971 Indiana bluegrass festival, Stuart befriended Roland White, mandolinist with Lester Flatt's Nashville Grass. After Flatt, who was one-half of Flatt & Scruggs - the most successful bluegrass duo in history, heard Stuart play and sing. He pulled the thirteen-year-old into his circle and offered him a job as rhythm guitarist and mandolin.
Stuart studied high school via correspondence classes. After Flatt died in 1979, Stuart stretched out stylistically, playing electric guitar with fiddle iconoclast Vassar Clements in the group Hillbilly Jazz, and acoustic guitar with the legendary Doc and Merle Watson. Then, before his twentieth birthday, Stuart was named a member of Johnny Cash's band. He was later inducted into the Grand Ole Opry and the rest is history!
Today, Marty has launched Superlatone Records backed by Universal South Entertainment; Marty Stuart opens the most ambitious chapter in his life to date. Keen to broaden the scope of his life-long passion to uncover the depths and eccentricities of Southern culture, Stuart now finds himself in the opening stages of combining music and the arts to continue his ambitious story. Souls' Chapel is Marty's first Gospel album off the new Superlatone label.
The music on Souls' Chapel hews passionately, and closely to what Stuart terms Delta Gospel. "You know what this record sounds like to me?" he asks. "It sounds like everything I heard on the radio as a kid growing up in Mississippi."
"Gospel music should represent the truth," Stuart says. "The truth is, the creative process of this record was stalled when I got arrested and sent to jail for DUI, and it wasn't the first time it had ever happened to me. The press was all over it. I was so humiliated. I also felt powerless not being able to live out the message of what I was singing about here. In the midst of my personal failure, I lost sight of any faith or hope."
But then something awesome happened to Marty Stuart. "We were playing a show in Chicago the day after I got out of jail. Mavis and Yvonne Staples came to the concert that night. Without them knowing what had happened at all, they brought and gave me Pops Staples' guitar. It was the greatest confirmation I'd ever had to fight on. It was like being handed the Excalibur sword. It was like being knighted with an instrument of light. And," says Marty Stuart, "it gave me the inspiration to go on, get my life back on track, and make this record."
Souls' Chapel was recorded at Stuart's home. The sessions employ his band the Fabulous Superlatives, drummer Harry Stinson, bassist Brian Glenn, and guitarist Kenny Vaughan, augmented by a handful of other musicians, such as the drummer Chad Cromwell and the great Muscle Shoals-sired keyboardist-producer Barry Beckett. Stinson, Glenn and Vaughan also contribute background and lead vocals in addition to their usual instrumental work. On the climactic song "Move Along Train," Mavis Staples of the legendary Staples Singers shows up and sings with Stuart. "I called Mavis," Stuart says, "and I said, 'Mavis, gotta have you on this one.'"
It was not just any call. As they played their customary live dates across the country, Stuart and his band had taken to singing gospel songs on their bus. Inescapably this meant, for Stuart, the brilliantly conceived and executed work of the Staple Singers, with whom Stuart had recorded a searing version of The Band's "The Weight" for the 1994 collection Rhythm, Country & Blues.
"Pops Staples was always one of my closest friends," Stuart says. "To me, he was a force of light. So Pops and I were real close; the Staples are like my family."
The eleven songs that comprise Souls' Chapel are both old and new. The collection opens with "Somebody Saved Me," a Pops Staples composition that indicates at once how Stuart, singing in a naturally strong voice that conveys both authority and intimacy, and the harmonizing of his band approaches this material. And that involves, basically, the Staples' masterful idea of bringing off the most emotionally expansive music not with swelling choirs or organs, but the frequently funky allure of minimal front-porch instrumentation.
"I've followed the sound of music all around the world and it led me right back where I started from… home in Mississippi," says Stuart. "From the perspective of the Delta land it's not just about country music, the blues, gospel, or rock & roll. It's about all of it. Mississippi is the home of roots music and its royalty. It's a place where words and music drip from the trees. It feels good to create in an atmosphere where all things are possibe." Stuarts' new project shares the discovery of faith & hope. He found the real truth to bring him through stronger than ever, with a story to tell and a passion to let it be heard. Marty Stuart is married to the legendary country singer Connie Smith and is booked by Buddy Lee Attractions.