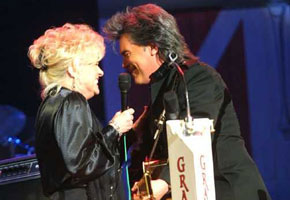 Put a little love in your heart! In honor of Valentine's Day, here's a list of my all-time favorite Opry love connections. Enjoy, and watch out for Cupid's arrow!
2. Marty Stuart and Connie Smith
Marty Stuart met Connie Smith when he was 12 years old and proclaimed to his mother later in the night that he was going to marry Ms. Smith someday. In July of 1997 he proved this to be true when the two were wed. The couple continues to wow fans with frequent duet performances on the nights they both appear on the Opry.
By Katrina Maddox
For those interested, the others were:
10. Music City Millennium Marryathon
9. Jimmy and Mona Dickens
8. Blake Shelton and Miranda Lambert
7. Garth Brooks and Trisha Yearwood
6. Vince Gill and Amy Grant
5. Ricky Skaggs and Sharon White
4. George Jones and Tammy Wynette
3. Trace Adkins and Rhonda Forlaw
2. Marty Stuart and Connie Smith
1. Johnny Cash and June Carter