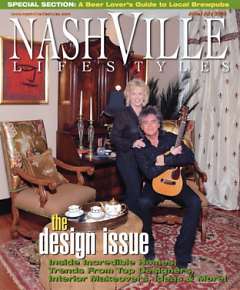 Country and gospel music greats Marty Stuart and Connie Smith have several things in common with the Parade of Homes -- all three are award-winning, thousands of people want to see them and each has classic good taste.
Recently, the charming couple took time out of their busy schedules to visit a home built by their friends Gene and Pat Large for the American Security Bank & Trust Parade of Homes at beautiful Savannah in Hendersonville. Stuart is currently at work on three CD projects while Smith, at press time, was honored by numerous Gospel Music Association Dove Award nominations.
The Parade is set to open June 12, and the couple was given a sneak preview and photographed by another longtime friend, George Bloodworth, in the study and conservatory/sitting room of the traditional-style home with stunning interiors by Savage Gallery.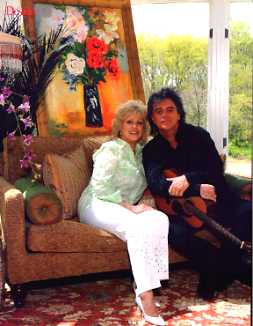 Smith and Stuart, in the midst of completing a two-year renovation of the former Hendersonville home of the Roy Orbisons, have a healthy respect for the home building industry. But their roots go even deeper -- to West Virginia for Smith, whose father and grandfather were carpenters, and to Mississippi for Stuart, whose father was a brick mason and whose uncles are contractors.
A self-described "architect junkie," Stuart was quick to notice the molded Cast Design fireplace with Gothic influences in the Parade home's family room.
"I've always been a big fan of architecture," Stuart says. "As I travel around the world, I love cathedral-hopping through Europe and seeing all of the Gothic masterpieces. Gene's fireplace reminded me of that style."