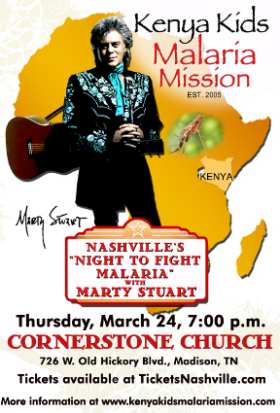 Charismatic country legend Marty Stuart helms a rare acoustic gospel performance this month, raising funds for an area organization that provides highly effective malaria nets for African children. The Night to Fight Malaria event benefits Kenya Kids Malaria Mission.
Though Stuart, a multiple Grammy-winning artist with four decades of making music to his credit, focuses much of his charitable efforts on his annual Late Night Jam in June, which benefits MusiCares, the Night to Fight Malaria was an event he simply couldn't pass up. "I love people who have a life's calling," he said. "I respect people who have a vision and pure passion for what they're doing, who are just in the middle of it." Dr. Douglas Beatty, founder of the Kenya Kids Malaria Mission, is one such person, he said. And it didn't hurt that it was Stuart's "Mama" who made the initial introduction. Beatty, a Smyrna physician, has cared for Hilda and John Stuart, Marty Stuart's parents, for more than a dozen years.
Dr. Beatty first became interested in malaria while a graduate student at UCLA in the 1970s. But it wasn't until he visited Kenya in 2004 that he learned the scope of the disease. Malaria, a preventable and treatable mosquito-borne illness, kills more than 2,500 children every day in Africa—one child every forty seconds. Beatty founded Kenya Kids Malaria Mission in 2005, and has since made numerous trips to Africa, working with Kenyan locals to deliver thousands of Olyset bed nets to families most prone to the disease. The organization also returns to villages previously visited, keeping statistics on how well the nets are working.
At least 75 percent of those who die from malaria each year worldwide are African children under the age of five, Beatty said, and many who believe they're being protected are using inferior, relatively useless nets. The Olyset nets, which feature insecticide that stays potent for five years and a durable plastic weave, are the only World Health Organization-recommended bed net manufactured in Africa. Working with Africans onsite, Beatty is available to purchase and deliver the nets for just $10 each, meaning a ticket to the Night to Fight Malaria event can save numerous lives.
"We can truly make a difference," Beatty said. "I'm not foolish or naïve enough to think we're going to be able to prevent malaria entirely. It's been around for arguably a million years. But we know we can have a real impact in a nation, just by allowing kids to reach the age of six without getting the disease. By that point, their immune systems have developed to the point that if they're infected, they'll have a much better chance of survival."