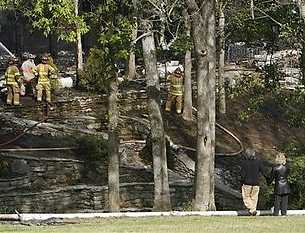 Johnny Cash's longtime lakeside home, a showcase where he wrote much of his famous music and entertained U.S. presidents, music royalty and visiting fans, has been destroyed by fire.
Cash and his wife, June Carter Cash, lived in the 13,880-square-foot home from the late 1960s until their deaths in 2003. Barry Gibb, a former member of the Bee Gees, purchased the home in 2006 and had hoped to remodel it and eventually write songs there with his wife.
One firefighter was injured in Tuesday's fire, authorities said.
"So many prominent things and prominent people in American history took place in that house — everyone from Billy Graham to Bob Dylan went into that house," said singer Marty Stuart, who lives next door and was married to Cash's daughter, Cindy, in the 1980s.
Stuart said the man who designed the house, Nashville builder Braxton Dixon, was "the closest thing this part of the country had to Frank Lloyd Wright."
When Cash moved there, the road was a quiet country lane that skirted Old Hickory Lake. Kris Kristofferson, then an aspiring songwriter, once landed a helicopter on Cash's lawn to pitch him a song. Roy Orbison was his next-door neighbor for a while.
Parts of the landmark video for Cash's song "Hurt" was shot inside the house.
"It was a sanctuary and a fortress for him," Stuart said. "There was a lot of writing that took place there."
Richard Sterban of the Oak Ridge Boys lives on the same road. "Maybe it's the good Lord's way to make sure that it was only Johnny's house," Sterban said.
Dixon built the three-story house in 1967 for his own family, but Cash fell in love with it. Dixon was reluctant to sell, but Cash kept after him.
"It was a very, very unusual contemporary structure," said Cash's brother, Tommy Cash. "It was built with stone and wood and all kinds of unusual materials, from marble to old barn wood. I don't think there was a major blueprint. I think the builder was building it the way he wanted it to look."
The younger Cash said many holidays and family get-togethers were spent at the house. And while Johnny and June also owned a house in Jamaica and a second house in Tennessee, they considered this to be their home.
"Johnny and June lived there the entire time they were married," Tommy Cash said. "It was the only house they lived in together until they both passed on."
The fire, in this suburb about 20 miles northeast of downtown Nashville, started around 1:40 p.m. Fire trucks arrived within five minutes, but the house was already engulfed, Hendersonville Fire Chief Jamie Steele said.
Just a few hours later, there was almost nothing left except stone chimneys.
The cause is unknown, but Steele said the flames spread quickly because construction workers had recently applied a flammable wood preservative to the exterior of the house. The preservative was also being applied inside the house.
Cash's long career, which began in the 1950s, spanned rock 'n' roll, folk and country. His hits included "Ring of Fire," "Folsom Prison Blues" and "I Walk the Line."
By Kristin Hall