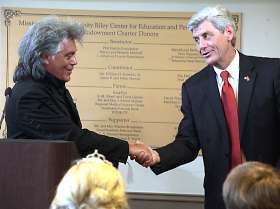 When it comes to cultural heritage, tourism, and entertainment, Tuesday was a big day for Lauderdale County.
During an almost three hour series of ceremonies, the Jimmie Rodgers Foundation, award winning country singer Marty Stuart, Lt. Gov. Phil Bryant and others announced two cultural milestones, two special concerts, and a country music memorabilia exhibit for Meridian.
More than 200 people gathered at the grave site of Jimmie Rodgers, hailed as the father of country music, as the first marker on the Mississippi Country Music Trail was unveiled there.
Many of those people then made their way to the MSU-Riley Center to see the unveiling of three stars on the Mississippi Arts and Entertainment Center's Walk of Fame, and to hear announcements that Country Music Legend Merle Haggard will perform with Marty Stuart at the MSU Riley Center this summer, Ernie Haase and Signature Sound will perform at the Temple Theater, and Stuart's enormous personal collection of country music memorabilia will soon be on display at the MSU Riley Center.
On top of all that, the Meridian City Council chose their Tuesday meeting to designate parts of Meridian as entertainment districts, paving the way for tax incentives designed to boost the entertainment industry in Mississippi.
Any of these events and honors would be great news for local and state tourism, but together, they have been hailed as powerful fuel for a new trend toward cultural heritage appreciation and tourism in Meridian and in Mississippi as a whole.
The Mississippi Country Music Trail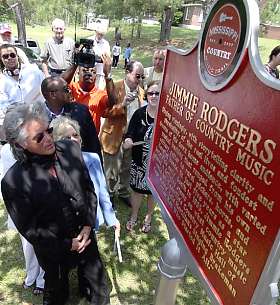 Following the success of the Mississippi Blues Trail, the first marker of the Mississippi Country Music Trail was unveiled Tuesday before a large crowd of government officials, musicians, and country music enthusiasts from Meridian and across the state.
Notable guests at the event included "Misty Blue" singer Dorothy Moore, Stuart, "Once a Day" singer Connie Smith, entertainer Paul Ott, and numerous representatives of state and local government.
In an atmosphere befitting the occasion, much of the crowd stood in shady spots under the Magnolia trees that line Oak Grove Cemetery, fanning themselves in the summer heat while listening to a Jimmie Rodgers impersonator as he picked and yodeled away.
All of the many speakers at the event were anxious to sing their praises for Jimmie Rodgers, Meridian, and Mississippi's rich musical heritage.
"Jimmie Rodgers recorded his last song just as he did his first, with just himself and his guitar," said Meridian Mayor Cheri Barry. "Jimmie Rodgers inspires all musicians today and for years to come."
Called the father of country music, Rodgers was known for his slow, yodeling tunes, and remembered for his wide reaching influence on American music of all genres.
"He's one of the greatest fathers of American Music, not only country music," said Stuart. "He is the reason Connie Smith and Paul Ott and Raymond Huffmaster and me have a reason to play country music."
Bryant spoke almost as highly of Stuart as Stuart did of Rodgers, crediting Stuart with persuading the Legislature to create the Mississippi Country Music Trail.
"He is the reason we are here today standing at Jimmie Rodgers' grave," Bryant said.
The marker is the first of 30 that will be unveiled as part of the Mississippi Country Music Trail over the next two years.
Sparkle and Twang
It won't be with just plaques and signage that Meridian celebrates the region's arts heritage this summer. The city will also host an exhibit of country music memorabilia that includes guitars, stage suits, and handwritten lyrics from the likes of Johnny Cash, Hank Snow, and Hank Williams.
The exhibit, called Sparkle and Twang is the personal collection of Stuart, who said, "It started in a bedroom in my momma and daddy's house... and now my insurance man tells me it's about 20,000 items."
Along with a display of the memorabilia collection, the interactive exhibit will tell the story of Stuart's personal experiences with some of the most famous stars of American roots music.
Sparkle and Twang has been traveling the country, and will come to Meridian July 10-Sept. 18 for display at the MSU Riley Center.
Celebrating music with more music
Because celebrating Mississippi's musical heritage is about more than just remembering music of the past, but listening to music live, the Jimmie Rodgers Foundation has also organized two special concerts to be held in Meridian this summer -- one featuring Stuart and Country Music Legend Merle Haggard, and another featuring gospel group Ernie Haase and Signature Sound.
Stuart said of Haggard, "He is a Jimmie Rodgers fan, and a die hard Jimmie Rodgers fan."
He said that, when visiting Haggard's home, a Country Music Award was used as a doorstop and no gold records hung on the wall, "but he had his Blue Yodeler Award on display."
Haggard has recorded seven gold records, as well as a Jimmie Rodgers tribute album titled "Same Train, Different Time".
Haggard and Stuart will perform at the MSU Riley Center July 25, with tickets priced at $63 and $69. Tickets go on sale at 10 a.m. today at the MSU Riley Center box office.
Ernie Haase and Signature Sound have played at the MSU Riley Center in the past to sold out crowds. They will play at the Temple Theater on Sept. 18, with tickets ranging in price from $12 to $25. Tickets are on sale now at the Temple Theater box office and at www.itickets.com.
Embracing tourism and appreciating our heritage
With events and exhibits that are expected to attract American roots music enthusiasts from across the globe, the word of the day Tuesday was "tourism."
As Bryant put it, "We understand in Mississippi about tourism. We understand that for every $1 that goes in we get $6 back... This is where country music began with the father of country music, Jimmie Rodgers, and this is where it will continue to be."
Barry Mazor, country music journalist and author of "Meeting Jimmie Rodgers," told spectators, "The world is going to come here, and the world is always going to celebrate this place as the birthplace of Jimmie Rodgers... He matters to people in a way that reflects what this town is and what he made it."
Lauderdale County Tourism Director Suzy Johnson said that could be a ticket to even more tourist attractions in Lauderdale County. "To me it's just a starting point, because everything that we did today, we're going to build on that," she said. "We're hoping that they're going to fill up our hotel rooms. We're going to certainly promote it from outside Lauderdale County."
According to Mary Beth Wilkinson, director of tourism for the Mississippi Development Authority, tourism is a $5.65 billion industry in Mississippi. But it is hard for a city or state to sell itself as a tourist attraction when many of the locals feel there is nothing all that special about their hometown.
As Lauderdale County Supervisor Craig Hitt put it, "All the time I hear people talk about how there's nothing to do in Lauderdale County... Well, today we're celebrating three events here in Lauderdale County that people will come from out of town to see."
"It's important that our locals come out and support the events and our exhibits because the guests need to see our hospitality," said Johnson. "And why not take advantage of some of these world class events in our community."
Wilkinson agreed that taking an interest in our own cultural heritage is key. "Today is what it's all about for tourism in Mississippi," she said. "It's about embracing our culture and embracing our heritage."
Bryant likened the Tuesday's events, along with the Mississippi Blues Trail, to a new dawn for Mississippi's self image, saying, "I think for so long we had so many demons in Mississippi, especially with race issues, and now that we're putting those demons to bed, the sun came up and we began to look around and see what an amazing place we have here."
Want to go?
The following upcoming events were announced during a press conference at the MSU Riley Center Tuesday.
--What: Jimmie Rodgers Foundation presents: Merle Haggard and Marty Stuart
--When: Sunday, July 25 at 7:30 p.m.
--Where: MSU-Riley Center
--Tickets: $63 -- $69. On sale today at the theater box office.

--What: Sparkle and Twang -- Marty Stuart's American Musical Odyssey
--When: July 10-Sept. 18; Tuesday-Friday from 10 a.m.-4 p.m. and Saturday from noon-4 p.m.
--Where: MSU-Riley Center
--Admission: $10 for adults, $5 for students
By Jennifer Jacob Brown