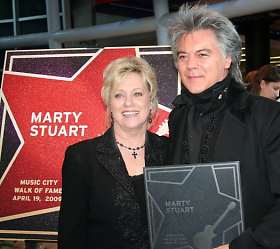 Over the years, the country format has had several couples that have helped to define the style. While some, like Porter & Dolly or Conway and Loretta, were not tied to each other in marriage some are (or were). Let's take a look at ten great power couples in country music history.
Marty Stuart & Connie Smith
In 1972, Stuart went to a Smith show, and met the stunning RCA recording artist. On the way home, he told his mom that one day, he was going to marry Connie Smith. It took twenty-five years, but in 1997, he fulfilled that ambition. These two represent the history of country music in a way that makes you want to stand up and cheer. Watch him on his RFD-TV show when he introduces her….Not only is he very much in love….but he's still her biggest fan!
{Note: The other couples were Garth Brooks/Trisha Yearwood; Johnny Cash/June Carter Cash; Rodney Crowell/Rosanne Cash; Vince Gill/Amy Grant; Merle Haggard/Bonnie Owens; Waylon Jennings/Jessi Colter; George Jones/Tammy Wynette; Tim McGraw/Faith Hill; and Keith Whitley/Lorrie Morgan.]
By Chuck Dauphin