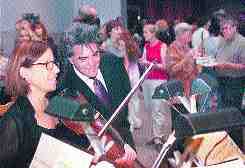 When country music star Marty Stuart arrived in Clarksville Thursday night, flanking his white limousine were police cars and about 200 people waiting for him -- but not to see him perform. "People were like magnets around him," said Randy Spurgeon, preparator at Customs House Museum and Cultural Center. The museum is displaying a collection of Stuart's black and white photographs, "Marty Stuart: Photographer," through Sept. 30. Hundreds more came during his two-hour visit, hoping to meet the versatile musician.
Stuart came to Clarksville for a reception honoring his work and Susan Hicks Bryant's "Revival: The Montgomery County Courthouse Project." Spurgeon said fans followed Stuart in large clumps as he walked through all of the galleries. "He wanted to see everything," Spurgeon said.
Allie Roach, an Austin Peay State University art student, and Lew Powers attended the reception with their children, Brittney, age 10, and Cody Powers, 7. Lew Powers particularly liked Stuart's photograph of Bill Monroe playing mandolin in his chicken yard with a limousine in the background. "It explains living in one world and coming from another," Powers said.
Stuart went on the road as a musician when he was 12, touring with bluegrass legend, Lester Flatt. Stuart asked his mother for a camera and started carrying it with him everywhere. Later, exhibiting his photographs was inspired by another musician/photographer who did the same.
"I saw a jazz player called Milton (Hinton)," Stuart said. "He had a book called 'Overtime' (The Jazz Photographs of Milt Hinton). When he was a young man, Billie Holliday and Dizzie Gillespie were just learning their craft. He started carrying his camera with him to sessions, and it was a glimpse behind the curtain. That really touched me, and I realized I was seeing things other people didn't get to see."
Stuart has had several exhibits of his photographs and published a book of them, "Pilgrim: sinners, saints and prophets" ($30). Stuart signed hundreds of books and souvenirs for the more than 500 people at the reception.
Doug Murray, a member of 194th MP Company at Fort Campbell, brought along his red Stratocaster guitar for Stuart to sign. Murray, 24, has been a country musician half his life and is a big admirer of Stuart. "He's a genius," Murray said. Murray also asked Stuart to sign a black and white photograph and cardboard cutout for friends. One was being sent to Staff Sgt. James Price, who is stationed in Korea, and the other bound for a soldier in Kosovo.
As the crowds began to thin, Stuart walked slowly around The Hand Gallery with Bryant, looking at her photographs and at relics salvaged from the courthouse after the tornado. Bryant said of Stuart's photographs that her is a still life of Minnie Pearl's worn leather shoes. "All it took to light my fire for the journey was one round of applause," according to the inscription beside that photograph.
And, APSU student Roach said there is a rawness about Stuart's photographs. "Some of them are posed, but a lot of them accentuate people as themselves," Roach said. "His photographs speak."
By Stacy Smith Segova