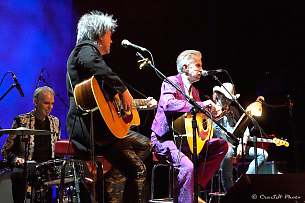 For the first time in recent history, Hollywood was rattled by bonafide foot-stomping. Many in the audience at the Music Box last night had no idea what was taking place when Neko Case announced Porter Wagoner's intention to take over Hollywood. But a historic buzz took hold when an old man in a purple rhinestone Nudie suit strutted out to the stage and launched into "A Satisfied Mind" with Case at his side.
The 79-year-old Wagoner, who sounded as if he was singing with very few teeth in his mouth, is known by the MySpace generation as one of the figures on the much-forwarded "application to be a redneck." He also appeared in Season 2 Episode 9 of Ali G to provide songwriting inspiration for Borat.
In real life, he was the host of the syndicated Porter Wagoner Show from 1960-79 and is credited as the man who "discovered" Dolly Parton. Wagoner is one of the oldest surviving members of Nashville's Grand Ole Opry. Marty Stuart, who played alongside Wagoner for the entire mini-set, is known for his bluegrass style and for backing up Johnny Cash in the 1980's. Dwight Yoakam, the country music stud of the late 80's and early 90's, joined on a few songs and Billy Bob Thornton, the country boy actor and Angelina ex-beau ably handled the drums on "Satan's River" and "Green Grass of Home."
Porter Wagoner Setlist:
A Satisfied Mind
Rubber Room
Committed to Parkview
Albert Erving
Men With Broken Hearts
Satan't River
Green Grass of Home
Photo by Ice Cream Man