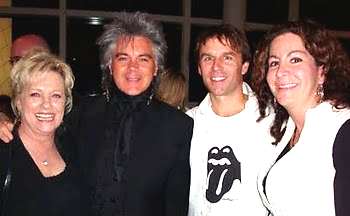 As I drove into work this morning listening to the insanely good country/hellbilly/metal/rebel artist Hank III on CD, I am reminded that I used to HATE country music. At least that's what I would tell people, claiming the statement as some kind of badge of honor. Rock and roll has no place for country music, I naively thought. Then one man single handed changed my entire perspective on the genre: Marty Stuart.
I stumbled onto a diverse musical hour of rock, punk, gospel(!), bluegrass(!), and country(!) on the XM satellite years ago and the voice behind the series absolutely captivated me. I had never heard of Marty Stuart yet felt so compelled by his knowledge on the power of music that I was driven to check him out.
Five years later, I have had the privilege to see him and his outstanding band, The Fabulous Superlatives, three times live. Last fall, my wife and I headed out of town to see him in concert, and after a box office mix up, ended up enjoying the show from the Front Row. When you see these guys in concert, they always stay after the show selling CD's, pictures, signing autographs, and spending quality moments with every single one of their fans. Genuine acts of kindness that I rarely see in the music business. I've also had the great fortune, through another in a long series of strokes of luck that seem to come my way, to meet him and his also-famous country-legend wife, Connie Smith, at the Rock and Roll Hall of Fame Museum in Cleveland. It was there that I got to tour his unparalled personal exhibit of historic Country Music artifacts.
Too bad he won't be coming to the Detroit area this summer, hopefully you caught him on The Late Show with David Letterman last night.
Things just happen in life for a reason, and I don't think anything is random. If you're not always paying attention, you might miss something. I thank Marty for introducing me to some of the better things in life and highly suggest you check out his weekly TV show Saturday nights on RFD TV. Look it up, you'll find it. They broadcast live cattle auctions on the weekends!
Ever wiser in my older years, I look back and realize that The Rolling Stones tried their best to steer me into country music. I was just too closed-minded to hear it.
By Kurt Schwarz