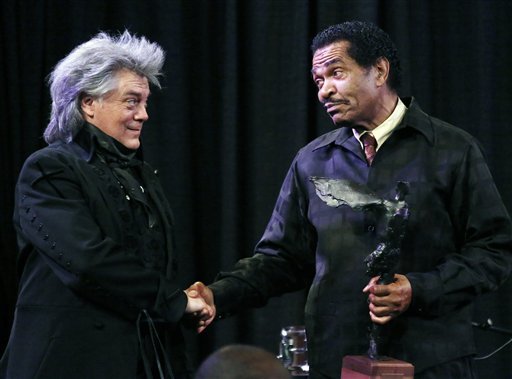 Mississippi artists were honored Thursday during a rocking ceremony at Belhaven University in Jackson.
Five-time Grammy award winner Marty Stuart hosted the 25th annual Mississippi Governor's Arts Awards ceremony with his band, The Fabulous Superlatives. He said Mississippians should be proud of their artistic accomplishments and inspired by the music icons who have lived and worked in the state.

"When it comes to creativity, we're unparalleled," Stuart told the crowd.

The Lifetime Achievement Award was presented to musician Bobby Rush, a Louisiana native who was named Living Blues Magazine's Best Live Performer of the year in 1995 and every year from 1997 to 2000. Rush performed for many years in Chicago before moving to Jackson. He is known for a unique musical style he calls "folk funk." Rush gave a solo performance at the end of the ceremony.

"I never thought that in 1951, when I was playing in a club behind a curtain where they didn't want to see my face, but wanted to listen to my music all night, that I'd be standing here," Rush said. "I want to tell you how much I appreciate crossing over, but I didn't cross out."


Beth Henley, a playwright, screenwriter and actress received the award for excellence in literature. Her first play, "Crimes of the Heart," was set in Hazlehurst, Miss., and won the Pulitzer Prize. Her adaptation of the script intoissippi screenplay was nominated for an Academy Award. Her most recent play, "The Jacksonian," is set in her native Jackson and recently debuted in her current home of Los Angeles.

"I grew up loving theater because of my mother," Henley said. "I'd like to dedicate this award to her."

Eddie "Chank" Willis, a former member of the Grammy-winning Funk Brothers, was honored for Excellence in Music. A Grenada, Miss., native and master guitarist, Willis played with many Motown stars, including Marvin Gaye, The Temptations, and The Four Tops.

The winner of the Arts in Community Award was the Bay Saint Louis Little Theatre in Bay Saint Louis, Miss. The original theater was destroyed during Hurricane Katrina.

"We rescued a part of our aluminum wall and spray painted the words, 'The show must go on,'" said Cheryl Grace, president of the theater's board of directors. With a grant from the Mississippi Arts Commission, the group was able to purchase a building on the verge of demolition, and rehabilitate it into a new theater.

The Arts in Education Award was given to Kathryn Lewis, founder of the Perk Players Children's Theatre Touring Company, now in its 43rd season, and co-founder of the Telling Trees Project. Telling Trees collects oral histories and creates performances and murals from the stories documented.

"Teachers call learning a journey, and my journey has been filled by the arts," Lewis said.