From child prodigy to current statesman, Marty Stuart followed country music from its roots to its heights until it led him home.
Marty Stuart turned professional at the ripe old age of 13, playing mandolin for Lester Flatt. ("There was a lot of faith and trust that went into that move. It was very structured. But for me, it was like running away with the circus.") When Flatt died in 1979, Stuart played guitar for Johnny Cash, before launching a successful solo career in the late '80s. Moving away from the radio hits that catapulted him to country stardom, he released a trio of excellent CDs on his own Superlatone Records in 2005.
Backed by his aptly named Fabulous Superlatives, Stuart explores the richness of America's deepest musical traditions—offering swampy, Staple Singers-influenced gospel on Souls' Chapel, a tribute to the Lakota Sioux on Badlands, and genuine, high-lonesome bluegrass on Live at the Ryman. Through a lifetime spent learning from greats like Flatt, Cash, and Pops Staples, Stuart has developed a legend's knack for putting things into perspective and a storyteller's eye for detail.
On a life of music:
"The first two records I ever owned in my life were Flatt and Scruggs Greatest Hits and The Fabulous Johnny Cash, and Connie Smith came to our hometown when I was 12. She played at the Choctaw Indian Fair in Philadelphia, Mississippi in 1970 or '71, and it was just a big, big day at our house because Connie was my mom's favorite singer. And we had a record at the house called Miss Smith Goes to Nashville and I just used to study the album cover. I thought she was the most gorgeous girl in the world—still do. I got her autograph that night and on the way home I told my momma that I was going to marry her. And 25 years later, I did.
So it seems to me that it was just a matter of it came and touched me and I had to follow it. The hardest part was losing Lester. The hardest part was losing John. But that's just life. That's the way life is designed. Whether it is five minutes or five years or 30 years, any time spent with those people is an incredibly rewarding and life-enriching experience."
On his new music:
"I don't compromise anymore. When commercial country radio began to cool on my records in the late '90s, I panicked for a minute and I went chasing. And then all of a sudden I said, "Now hold on. This ain't working. I'm becoming something that I'm not." Beginning with a record called The Pilgrim, I drew a line in the dirt and said, 'From here on out, regardless of the outcome, here I go.' And it has been, once again, hit and miss. Sometimes the critics got it before the cash register. Sometimes the cash register didn't get it at all. But at the end of the night I sleep real good.
I learned from scoring films that the soundtrack and the picture ought to line up. And if you drive through rural America and listen to modern country radio, sometimes it lines up and sometimes it doesn't. If you listen to old country radio, it lines up great with rural America. But if you go into the suburbs and go downtown and listen to modern country music it is a pure reflection. We're a more suburban culture these days, I guess. Everybody wants to go to town."
On finding his "hillbilly special" J-200: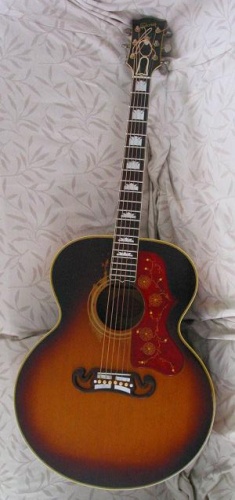 "It always pays to pay attention to the back roads. I got a video about three or four years ago of this wonderful character named Corky Wimberly who was a tomahawk thrower. He believed in living the Indian way, and he looked like a cross between Johnny Cash and Sam Phillips, he kinda had that rockabilly vibe. The video opens with him throwing a tomahawk at his wife on one of those spinning wheels and then the next scene in the video is him pulling his own teeth the Indian way. So I had to find him. I invited him to a show to say hello and hung out with him a little bit. And then maybe around this time last year, my wife Connie played a concert somewhere down in north Alabama and Corky came to see her. And he had a handwritten letter that he asked her to deliver to me. The letter basically said, 'I've got a J-200 that I bought new in 1952, one owner, and I want to sell it to you.' I called him about it and it felt real, so I got in the car and drove down there. Sure enough, it was a one-owner, hillbilly special, hadn't ever been played past the third fret J-200, with rattlesnake rattlers in it, original case, original strap, original everything, just a few honky tonk nicks in it.
I've been looking for a J-200 since I met Cowboy Jack Clement in 1980. The three best J-200s I ever played in my life were Cowboy Jack Clement's, Paul Kennerly's, and one Gram Parsons had played. So I've been searching for that magic J-200 for all those years. Came close a time or two. I wound up buying that famous one of Johnny Cash's on The Fabulous Johnny Cash album cover. Got that one, and found out there were two of them made, actually. So now I've got the other one. And George Gruhn called me one time and said, 'I've got a blonde J-200 here with the name 'Marty' in the neck.' It came from a preacher. So I went and played it and it was magic, but I said, 'You gotta get Marty out of the neck, because I can't do that.' Wrong Marty. But after they did it, the magic just left. I sold the guitar real fast. But I finally found me a J-200 is what the bottom line of the story is. This is the one."