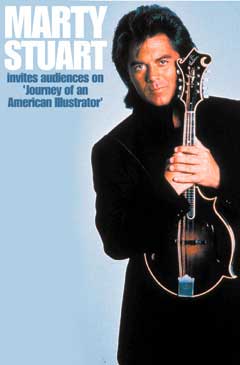 For a mere $1.87, Marty Stuart purchased his first piece of art in 1966 - an album cover designed by Nashville native Thomas B. Allen.
The work was a realistic rendition of legendary bluegrass musicians Lester Flatt and Earl Scruggs, sporting their trademark white Stetson hats, white suits and red Kentucky colonel ties.
Just the sight of the full-color image caught the eye of young Stuart. Back then, Stuart's family had only black-and-white television. So getting to see Flatt and Scruggs in color was an awe-inspiring event, he recalls.
"The Flatt and Scruggs record was a painting. It has a beautiful blue background," says Stuart, explaining that he hung the album jacket on his bedroom wall. "The thing was so enchanting...The way he painted the guys, it almost gave them immortality...It was the first piece of artwork I'd ever known."
Decades after picking up that first piece, Stuart - who recently was named Heritage Award winner for the annual Uncle Dave Macon Days held in July at Cannonsburgh Pioneer Village - has amassed a whole collection of Allen's works. That art will be featured in an upcoming display at the Ryman Auditorium entitled "Thomas B. Allen: The Journey of An American Illustrator." Allen also is known for his illustrations in LIFE, Fortune, The New Yorker, Sports Illustrated and other periodical publications.
On Wednesday, May 17, Stuart will pair up with Scruggs at the historic Ryman Auditorium to kick off Allen's art exhibit with "The Great American Folk Boom," a special concert to benefit Nashville's Watkins Institute of Art.
Other performers for the evening will include Joe and Jeanette Carter of the famed Carter Family; LeRoy Troy; Hillary Allen, daughter of the featured artist; and gospel singer The Minister Evelyn Hubbard of Commerce Baptist Church in Robinsville, Miss.
Stuart says the whole collaboration of events was a match made to be married.
After years of collecting Allen's works, Stuart eventually turned his basement into an art gallery. And nights of "pickin'" on his back porch gave the country musician the idea for the art and music exposition, he explains.
"It's like a big family reunion," says Stuart of the impromptu gatherings. "I thought this really has to grow up and be something."
So Stuart approached the Ryman about hosting the art show and having a concert featuring folk artists.
"The next thing I know, the governor is in on it, then the city," says Stuart.
"There's a whole lot of good happening," he says. "Tom Allen gets to bring his work home, and the Ryman becomes an art museum...Art and music stroll hand-in-hand."
Stuart says he felt it would be "fun to revisit the folk boom" that Allen, Scruggs and many other musicians and artists helped bring about in the 1960s.
"(Allen) was one of the main people that gave the folk boom an image. When they started getting attention - people like Uncle Dave Macon - all the folk artists came out of the woodwork," says Stuart. "His ability is to be able to take what he does and the everyday folks can have access to it...It's part of our heritage."
And much like Allen's artworks and Flatt's and Scruggs' music inspired Stuart, so has he inspired others and preserved the time-old traditions of country music.
Tickets to "The Great American Folk Boom" May 17 concert are $27.50 and $22.50 and are available at all Ticketmaster locations or at the Ryman Auditorium. For more information, call 255-9600.
Allen's exhibit will be open daily from 8:30 a.m. to 4 p.m. beginning the day after the concert. Admission to the exhibit will be included as part of the Ryman's self-guided tour and costs $6.50 for adults and $3 for children ages 4 to 11.
By Nancy De Gennaro