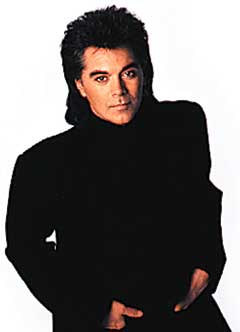 Country music star Marty Stuart will be this year's recipient of the Uncle Dave Macon Days Heritage Award.
The award will be presented during special ceremonies at the 23rd annual Uncle Dave Macon Days old-time music and dance festival July 7-9 in Cannonsburgh Pioneer Village, festival organizers said.
The award is a yearly honor presented by the directors of the festival to an individual determined most dedicated to the preservation and advancement of old-time music and dance.
Stuart will also serve as grand marshal of the Motorless Parade that will make its way down East Main Street that Saturday morning, a notice indicated.
The parade is held to illustrate Macon's career as owner of a mule service back at the time.
Once the automobile came on the scene and Macon turned professional, he ceased operations and concentrated on his music, festival publicist Wendy Bryant said.
Honoring Stuart is the festival's way of recognizing the days before modern music and electric instruments, the publicist said.
"It's a way to take us back to bluegrass and the days of pre-electric instruments," Bryant said. "It's always the second weekend in July and is considered one of the premier summer festivals."
Though originally held on the Public Square in Murfreesboro, the festival moved to historic Cannonsburgh to accommodate a growing number of visitors - last year, the festival drew more than 40,000 visitors.
The festival's namesake, Uncle Dave Macon, was the Grand Ole Opry's first banjo superstar who lived near Murfreesboro, organizers said. He died in 1952 and was named to the Country Music Hall of Fame in 1966.
Macon performed what has become known as a more traditional style of country music, a far more simply-produced style than the more modern, more rock 'n' roll, country of today. It was known as music for the masses and some historians say it represented an early evolution of what had been a Middle Tennessee collision of mountain music and Mississippi Delta music.
Festival organizer Gloria Christy said Tuesday that Stuart attended the first Uncle Dave Macon Days on the Public Square before he joined some of the more well-known artists of his day, including Flatt and Scruggs and Johnny Cash.
The festival is one of only a few of its kind across the country, with a musical competition that boasts a $5,400 purse, organizers said. Joining its Smithville Fiddler's Convention counterpart, Uncle Dave Macon Days has been named the National Championships for Old-Time Banjo, Old-Time Clogging and Old-Time Buck Dancing.
Family-oriented events scheduled during the festival include: The Dixie Dewdrop Classic, a July 9 bicycle road race; a gospel singing; arts and crafts show; historic photo exhibit; activities for children; and concessions.
Activities will begin at 5 p.m. on the Friday and Saturday during the event and at 2 p.m. on the Sunday of the event.
Admission is free, and both paid and free parking will be available.
This year's festival also marks the first year for its relationship with title sponsor WSM-AM radio, Christy said. Both the radio station and Macon began careers the same year.
"It was 75 years ago that Macon and WSM launched their careers together," she said. "Somehow we found each other...We are looking for this to be an ongoing thing. We hope to cross promote ourselves. There are really few venues for that now."