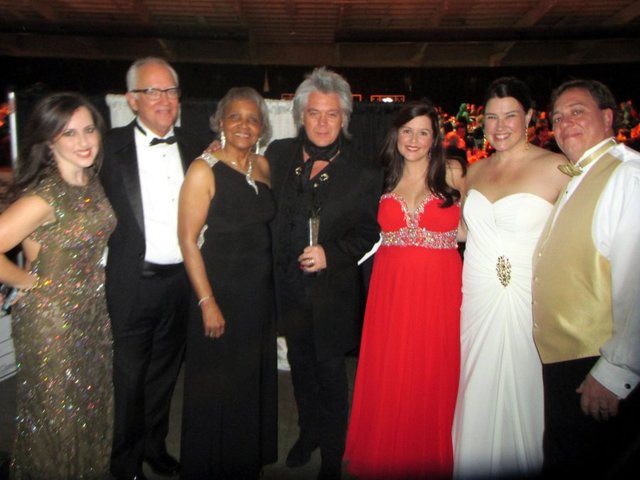 Five-time Grammy winner Marty Stuart was the 2015 Star of Hope at the Crystal Ball, a fundraiser for the Community Foundation of Northwest Mississippi, held January 17, 2015 at the Arena at Southaven. He joins the roster of former Star of Hope honorees, including B.B. King, Morgan Freeman and Archie and Olivia Manning.

According to foundation president Tom Pittman, the award is given to "a native Mississippian who has demonstrated success in professional life as well as community service that gives us Northwest Mississippians hope for better lives. Marty Stuart was instrumental in creating the Country Music Trail, building on our state's asset as the birthplace of American music. He's a wonderful advocate for Mississippi."

Marty, who grew up in Philadelphia, Mississippi, graciously posed for photographs and chatted with guests. Backstage, he fondly talked about the late producer/musician Jim Dickinson, whom he originally got to know when they both performed on the "Thacker Mountain Radio Hour" in Oxford. Marty described Jim as "the moral conscience of Memphis. If there was one ounce of pretense or show biz attitude around any creative proceedings, he cried, 'foul!' He was truly about the heart and soul of the matter. Pure artistry."

He's proud of Jim's sons Luther and Cody Dickinson of the North Mississippi Allstars, who were Star of Hope recipients in 2005, along with Blind Mississippi Morris.

Included in the silent auction was a copy of Marty's coffee table book of photographs, "American Ballads: The Photography of Marty Stuart."

"Wonderland" was the theme of the event, which included a live auction, music by the Delta Blues Museum Band and DJ Mark Anderson, and a dinner catered by Memphis Barbecue Co.in Horn Lake.

Jennifer and Patrick Sanders were Crystal Ball co-chairs.


By Michael Donahue