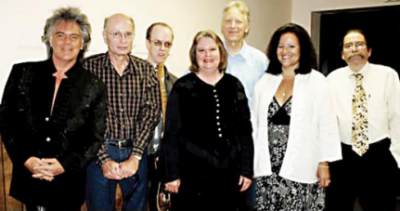 When Rob Tiger (vocalist and rhythm guitarist) answered the phone while working in his store, Chinquapins On-The-Square in Hayesville, he was not expecting to hear someone ask, "Could Irons in the Fire be the opening act for Marty Stuart at the Fair in July?" "Is the band available?" Tiger replied, "Well, yes, we're available." He answered the question without checking the schedule for the band. And so it was on Thursday, July 17, Tiger and the rest of the Irons in the Fire band opened the two performances by Marty Stuart and his Fabulous Superlatives at the Anderson Music Hall during the 2008 Georgia Mountain Fair to a filled concert hall.
Someone might wonder why Tiger answered so quickly without much thought of previous engagements on the band's calendar. But you only have to attend one performance to see the reason they perform — for the love of the art and to use the talent they were graciously given and have developed from years of hard work.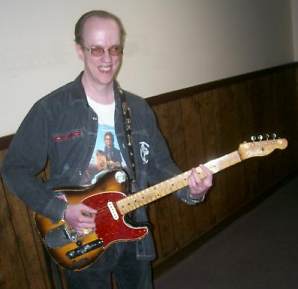 Tiger wasn't star-struck, the band has opened for several well-known recording artists, and among them are B.J. Thomas, The Nitty Gritty Dirt Band, Billy Ray Cyrus, Janie Fricke and Shawn Mullins. However, being asked to open the show for a singing and musical talent such as Marty Stuart and his legendary group of musicians and vocalists is quite a compliment and an opportunity that just couldn't be passed up. An invitation like this is what dreams are made of. Just ask Tony Trout of Irons in the Fire and he will tell you, "Amazing, a dream come true."
Trout is a big fan of Marty Stuart and was nervous after Kenny Vaughan (another renowned musician) and member of Stuart's band complimented him when he completed his pre-performance sound check on his guitar. Trout was happy beyond words when Stuart wanted to snap a photo of him holding Stuart's guitar. The guitar formerly belonged to another musical legend, Clarence White.
Vocalist Jessilyn Knight added, "We enjoyed it, it's great to look out and see the music hall full and it's fun to play for so many people."
Irons in the Fire band members are Tony Trout (lead guitarist), Rob Tiger (vocals, rhythm guitar and banjo), Perry Stalcup (electric bass), David Brose (banjo, acoustic guitar and mandolin), Dave Peters (stumph-fiddle); and Jessilyn Knight and Rebekah Scott (lead vocals and harmony). They are an eclectic group of people who over the past 20 years have been writing and performing a unique blend of demented humor and social commentary using musical genres from polka to rockabilly, with plenty of folk, country, blues, bluegrass and Americana-roots music thrown into the mix.
They also have an equally eclectic blend of talents off stage as well, from elementary school teacher, a historian, retired child psychologist, and a potter, to mention a few.
The group formed with three members in 1988 and began recording original music. Some of the members have changed over the years, but the talent of this local band from Hayesville continues to flourish and entertain.
By Mary Ables