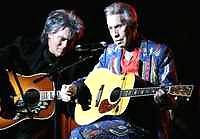 Country took its turn in the Grammy week spotlight with LeAnn Rimes, Marty Stuart, Charley Pride and Porter Wagoner among the stars calling attention to efforts to preserve vintage country audio and video performances.
Rimes on Thursday night kicked off the "The Soul of Country," this year's Grammy Foundation Music Preservation Project with a rendition of the Patsy Cline classic "Crazy."
"It's so important to preserve music history," she said. "I want my kids to know all these great artists of the past."
Porter Wagoner, known for his duets with Dolly Parton, made his Los Angeles debut at age 79 at the Wilshire Ebell Theater, performing "Men With Broken Hearts" while Stuart accompanied him on guitar.
After seeing Wagoner dressed in a jewel-encrusted blue suit and jewel-studded silver cowboy boots, Rimes said, "He looks prettier than all the girls here."
Wagoner and Pride, one of only two black members of the Country Music Hall of Fame, earned standing ovations.
"It's so important to keep track of where we've been," said Deana Carter, who sang with Brian McKnight and Kenny Loggins on "You Don't Know Me."
Stuart served as producer on Wagoner's new album called The Wagonmaster due out in June.
Pride credited Wagoner for being one of the first musicians to give him a break as Wagoner's opening act when he toured with Parton. Wagoner is marking his 50th year as a member of the Grand Ole Opry.
Besides the live performances, the event featured film footage from the archives of the Country Music Hall of Fame and Museum, including Richard Nixon's 1974 piano-playing appearance at the Grand Ole Opry.
Pride hobnobbed with actor Terrence Howard, who will portray the groundbreaking country singer in an upcoming movie. The two men plan to spend a couple of months together before filming.
"I had a chance to play Bob Marley or Rick James or Charley Pride and I chose Charley," Howard said. "I'm so ready and so excited."
Stuart narrated the program and showed off his musicianship with an extended mandolin solo, while Shooter Jennings and the .357s and Joe Nichols also performed.
By Beth Harris