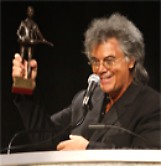 At a ceremony in November, CMA honored legendary artist Marty Stuart with the prestigious Joe Talbot Award, given by the CMA Board of Directors to honors its recipient's outstanding leadership in maintaining and advancing Country Music's values and traditions.
The presentation took place at a CMA Board of Directors reception at the Tennessee State Museum, following the launch of Sparkle & Twang, an exhibit of Country Music memorabilia from Stuart's personal collection, which includes treasures from Johnny Cash, Patsy Cline, Elvis and Hank Williams , among others. Stuart's fervor for preserving and protecting the personal and everyday items that defined the larger than life careers that inspired him was lovingly and painstakingly apparent in the collection. He has amassed one of the largest and most significant collections this side of the Country Music Hall of Fame and Museum, with more than 20,000 items. Several pieces from Stuart's extensive collection have been on loan to the Hall of Fame as well as the Rock and Roll Hall of Fame and Museum in Cleveland and the Louvre Museum in Paris.
"It goes without saying that I loved Joe Talbot [because] he was a warrior," Stuart said. "He was passionate about traditional Country Music and the values of the industry. He stood on his convictions, and that's one of the things that always made Country Music great. It was built on people's convictions.
Today, with numerous Top 10 hits, Platinum and Gold albums, a CMA Award for Vocal Event of the Year with Travis Tritt, four Grammy Awards and a record of service that includes six terms as President of the Country Music Hall of Fame and Museum's Board of Directors, Stuart exemplifies the qualities that distinguished previous winners of the Award: Janette Carter (2004), Louise Scruggs (2006) and posthumously, Talbot (2001).