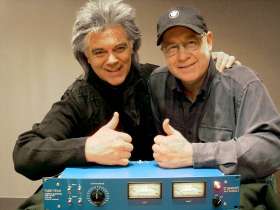 To suggest that Marty Stuart's forthcoming album, Ghost Train, is a return to his roots, is nonsense, as he is one country singer/songwriter that has never strayed far from those roots. Even Stuart's string of commercial hits in the 1990s were less about calculating hooks than they were about the affections of a fickle public - affections that shifted for a time toward authentic country. Stuart cut his teeth backing the likes of Lester Flatt, Doc Watson, and Johnny Cash. Ghost Train is a return to his roots, not in its content, but in its process. Stuart and longtime engineer Mick Conley went into legendary RCA Studio B, which is now literally a museum, to cut the tracks in the very first room that Stuart ever recorded in, back in the early 1970s, when he was playing with Lester Flatt. To highlight that beautiful recording in the mixdown process, Conley turned to a Tube-Tech SSA2B summing amplifier as the final stage in an otherwise in-the-box Cubase 5 mix.
In the 1960s and 1970s, historic RCA Studio B turned out recordings for Roy Orbison, Dolly Parton, and Elvis Presley, along with hundreds of other artists. Incidentally, it was also the same studio where Stuart's wife, Connie Smith, recorded her first tracks. RCA Studio B is now used by the Country Music Hall of Fame for tours and by lucky Belmont University students for analog recording classes. Conley had access to a wealth of Studio B's vintage analog gear, including a centerpiece API console, and produced a magical recording with it. "Going in there was a little bit nerve-wracking for me," admitted Conley. "I mean, I know the history of the place - many of the most famous albums in the world were made there. So I had a reason to be nervous!"
Conley took the recording back to Paul Martin's Clubhouse at Inlight Studios, north of Nashville, where he and Stuart had taken over a control room that, until they arrived, had never been completed. As has been his recent M.O., Conley mixed mostly "in the box," but his recent Grammy-nominated recording for Kathy Mattea and the process used to create some of his other favorite contemporary recordings suggested that getting at least some of it "out of the box" was a good idea. With Mattea, he mixed everything through a Neve console. But the new little studio didn't come with a Neve.
"It's getting harder for a lot of studios to justify spending thousands of dollars on a good analog console," Conley said. "Even when I have access to one, I only use a portion of its capabilities. But Marty and I both like tubes and transformers. We need some iron in our diet, right? So we asked the good folks at TransAudio Group [Tube-Tech's U.S. distributor] to send us a demo Tube-Tech SSA2B summing amp. I should have known it would be like bringing a puppy home for a 'demo.' There was no way we could send it back!"
He continued, "The first time Marty heard an A/B comparison between a fully-in-the-box mix and one that had gone through the Tube-Tech, his one-word comment, full of depth and emotion, was simply, 'Wow!' The difference is obvious. Every piece of gear can go left and right, but with the summing amp, I get front-to-back - true depth of field. I can place instruments in three-dimensional space. I can hear full reverb tails. The vocal sits there like magic, with everything else positioned around it. Marty says that you 'can hear down in the mix,' which I think is a good description of what the SSA2B can do."
Stuart and Conley also produce a weekly half-hour show aptly titled The Marty Stuart Show, on the RFD-TV network. Their new Tube-Tech SSA2B summing amp makes a big difference there as well. "TV is really very difficult," said Conley simply. "With the data compression and dynamics manipulation used in broadcast it is even more important to try to achieve as much separation as possible. With the new summing amp, the greater depth of field keeps things from wadding up in the center, the way they otherwise do. The end result is greater clarity."
With the great success of their new SSA2B and his long-time love of the classic Tube-Tech CL1B compressor, Conley is excited to demo some other 'puppies'. Next on his list is the SMC2B multiband compressor. "I have an upcoming recording with Connie Smith," he said. "Like a lot of singers, she has a range in her voice that is quite resonant and static EQ isn't the best solution for it. But, I have a hunch that the SMC2B will control it and leave everything sounding nicer overall."
His parting words for the SSA2B summing amp? "Some might say that it looks kind of simple because it has no blinky-blinky-flashy this or that. But, that's the real beauty of its design. There are no buttons to push, and yet it has a more profound effect on the mix than a rack full of buttons."
By Heather Davis