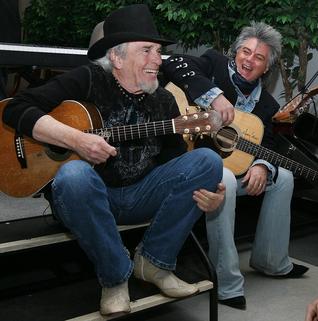 It was the birthplace of some of America's greatest roots music. And for a few ephemeral hours Saturday, the image of humble Oildale, Calif., took on an almost mythical quality as two of its most celebrated sons gathered to remember its rough and proud past.
Country music legend Merle Haggard and novelist and music historian Gerald Haslam both grew up in Oildale during the 1940s and '50s -- and both were present Saturday at a daylong conference at Cal State Bakersfield titled, "Oildale and Beyond: Interpreting the Region Through Words, Images and Music."
"I'm astonished we're in Bakersfield celebrating Oildale," Haslam told the attendees packed into the university's multipurpose room.
The event coincides with Oildale's 100-year anniversary, but the recognition of the north-of the-river community's unique contribution is long overdue, said Haslam, who now lives in Sonoma County.
Using historical presentations, interviews and photographs, the conference examined how a people and a culture transplanted here during the 1930s and '40s found a fresh, new voice in the San Joaquin Valley.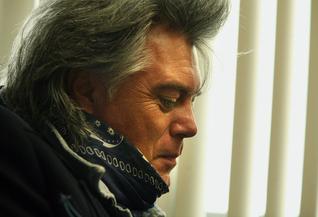 But a few rarefied moments from Saturday's event may take on their own mythical aura in the years to come.
Just imagine, for example, Haggard bringing a few musician friends to strum acoustic guitars and sing some old favorites in your living room, and you'll get a sense of the rare intimacy Haggard shared on Saturday.
Many of Haggard's family and friends joined him, as did longtime friend and fellow country artist Marty Stuart, a past president of the Country Music Foundation.
With longtime Stranger Norm Hamlet on Dobro and Bakersfield-based former Stranger Mark Yeary on keyboard, Haggard and Stuart played unplugged-style renditions of "Mama Tried," "If We Make it Through December" and three or four others.
It was a casual and easy-going performance, as if they were back in Oildale relaxing on a friend's shaded front porch. But everyone knew the Oildale of old no longer exists.
"Little Oildale is a fairy tale," said James L. Wattenbarger, a local poet who goes by the name James L. from Oildale.
"In my nom de plume, James L. from Oildale, the operative word is 'from'" he said. "I'm not there anymore."
But for one day, the Oildale that bore Haggard and Haslam came alive again.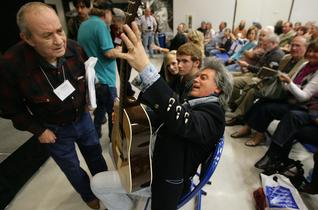 Haslam in his keynote address described a pre-television Oildale where neighbors often gathered outdoors in the afternoons and evenings to share stories and let their children play. It was a pattern that created a fine intimacy, Haslam said, an intimacy that was lost when TV later pulled families indoors.
"We were neighbors in the fullest sense of the word, and thus, we had a neighborhood in the fullest sense of the word," Haslam said.
But then the wooden derricks that bristled on the distant hillsides disappeared. Change was in the air.
"I learned a lesson about impermanence," Haslam said. "Nothing human lasts forever."
During an interview moderated by The Californian's Robert Price, Haggard talked about the wide span of his life as the audience remained rapt.
Topics included the impact his father's death had on then 9-year-old Merle.
Haggard remembered seeing Johnny Cash for the first time when Haggard was an inmate at San Quentin. His first impression of Cash was not favorable, but soon Cash's performance changed his mind.
"I watched him turn that crowd into a Johnny Cash audience," Haggard said. "How did he do that?"
Although Haslam and Haggard attended Standard School together, Haggard said he went "down a wrong alley" after his father died.
Haslam would go on to advanced studies, academia and writing, while Haggard learned to hop freight trains, eventually finding himself on the wrong end of the law -- until he found music.
"You became a road scholar," Stuart quipped, referring to Haggard's years of touring with his band.
Like his youth in Oildale, life on the road was its own kind of education, an education that helped Haggard and his band, the Strangers, develop and popularize the Bakersfield Sound, a musical expression that many believe is still the soul of country music.
After Saturday's conference, maybe it should be renamed The Oildale Sound.
By Steven Mayer