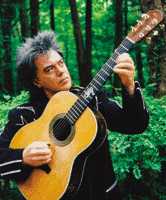 Grammy-winning country artist Marty Stuart was attending the Firemen's Carnival in Schaefferstown, Pennsylvania last summer when inspiration struck. Although he was there to perform a concert, he looked around and saw so much more.
"The Amish community showed up to sell cakes and pies and goods. There was a little princess contest. The 4-H Club was there. There was a tribute to Conway Twitty as an opening act," the Grand Ole Opry star recalls. "It was like God tapped me on the shoulder and said, 'Here it is. It's on the backroads' and I said, 'Got it.'"
"It" was the idea of bringing small communities together for full-scale events built around a country music concert. Dubbed the Electric Barnyard Tour, Stuart envisioned "a cross between the old Roy Acuff tent shows when he carried Grand Ole Opry acts out with variety acts, and Cirque du Soleil coming to town."
It's a novel concept for a major tour to stop in places like Tama, Iowa, Somerset, Ky., and Jackson, Mich., in an age where popular artists rarely perform beyond metropolitan arenas. But for Stuart, a big event happening in a small town was like a return to his childhood.
In Philadelphia, Mississippi where Stuart grew up, residents looked with great anticipation to the Neshoba County Fair and the Choctaw Indian Fair, both of which featured live performances by well-known country artists such as Ernest Tubb, Connie Smith, and Skeeter Davis.
"The whole social season of Philadelphia revolved around those two events for me," he recalls. "Those were the only times that I got to see live performances of the kind of music that I saw sitting in front of the TV with my daddy.
"As a young musician, it offered me an outlet, whether it was the talent contest or the first time that I got to get up on the main stage at the Neshoba County Fair," he observes. "I thought, 'It don't get any better than this.'"
Actually, things got considerably better for the musical teen-age prodigy. At age 12, he joined Lester Flatt's bluegrass band and spent his teen-age years on the road. "In those days, (Flatt) was playing in a lot of small towns across America and the thing that I loved about the small towns was that each one seemed to have its own soul, its own set of rules, its own character, its own identity," Stuart says. "I loved getting inside the towns and finding the best local restaurant, the jewelry store that had been in business for 60 years, the local wisdom, and the local color."
He spent the '80s and '90s on the big-city circuit, first as a musician in Johnny Cash's band, and then as a solo artist with radio hits such as "Hillbilly Rock," "Tempted," and "This One's Gonna Hurt You (for a Long, Long Time)." His success led to work in Hollywood creating the music scores for movies, but the country boy found that he often longed for home.
"After working about six months straight in Hollywood on films, I woke one morning and it was a like a curtain fell down and I thought, 'It's time to go home. And I don't mean to Nashville. I mean to Mississippi,'" he reflects.
Although he lives in Music City, he often follows his heart back to his hometown. "It is rich with family, with Southern culture, with food, with memories, with love, and music and characters and events good and bad in life. In a word, it is simply home."
Taking the music back home
After a recording sabbatical of several years, Stuart sought to re-ignite his solo career last year and began visiting the offices of prominent country music labels. What he discovered was unsettling. "I had a country music executive tell me that the people we make music for don't know about barns and tractors, they don't care about gardens or rural life. And that just bugged me.
"While that may be partially true, it tells me that we're leaving a lot of people unfed out there because if anybody had thought that way when I was a kid, maybe I wouldn't have seen or heard country music," he says.
His new album, simply titled Country Music, is filled songs about fishing, farming, and the finer things of regular folks. His desire was to create "heart and soul music that lines up with the landscape of rural America."
The Electric Barnyard Tour is designed essentially to take country music back home. In addition to an inflatable arena that holds up to 8,500 people, the venue will include sponsor booths, concessions, games, and exhibits by local organizations such as the Future Farmers of America, Scouts, civic clubs, and churches.
Early on, Stuart knew that he wanted to enlist the help of an American icon, so he paid a visit to his old friend Merle Haggard and pitched his concept. The country legend liked the idea immediately and told Stuart: "I think what we're doing is remembering the forgotten ones. During the days, we can maybe take our guitars and go to jailhouses, rehab centers, unwed mothers' homes, and play songs and offer them hope."
"I thought that was a brilliant idea," Stuart recalls. He rounded out the lineup with The Old Crow Medicine Show and a rotating cast that includes Rhonda Vincent and the Rage, BR-549, and Connie Smith.
"We're really honored to be a part of it," says Vincent, a bluegrass headliner from Kirksville, Mo., who began performing with her family when she was 5 years old. "It's just a very rootsy concept and a lot like what we did when I was growing up. We love to go out after a show and sign autographs and meet the people. That's just an extension of what we do."
Borrowing a tactic from Billy Graham's crusades, an advance team will precede the concert into each area to arrange radio contests and giveaways as well as secure the support of community groups and businesses.
"We've been taking a film camera out on the road with us for about the past year-and-a-half. At first, the film was about documenting ourselves and learning how to play music together and documenting our journey as a band," Stuart says. "All of a sudden, we started talking to people out on the road and it became like the voice of the vanishing blue-collar American began to speak through these films." Stuart plans to add new interviews to this pet project as part of his 23-stop tour.
He'll debut new songs, play old favorites, rub elbows with local folks, and get the enjoyment of bringing the sort of show to town that thrilled him as a boy.
"For whatever reason, our presence seems to bring communities together," he notes with an obvious sense of enjoyment. And although it went unsaid, he'd probably add, "It don't get any better than this."
By Michael Nolan