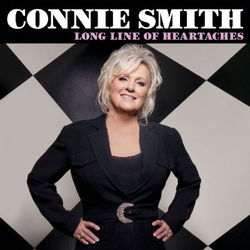 People often get a bit confrontational with Lonesome Onry and Mean about "country music," like the last time we went to the bank in our father's little ranching town in Central Texas. As soon as we were introduced as a "music writer," one fellow -- the local tractor dealer -- said, "Well, that stuff that's on the radio these days ain't country" like it was a fact that he and he alone had only recently discovered.

We are also occasionally sucked into the endlessly circular chats on Facebook, usually on some retro country artist's page, about how it sucks that so-and-so artist isn't on the radio and that Carrie Underwood, etc. "ain't country." These are usually people with their heads buried in the sand, not willing to pull their head out and take a look until Hank Williams returns from the grave. The conversations usually go, "Hag, George Jones, Johnny Paycheck, blah blah blah."
Well, if you happen to be one of those people who aren't happy unless everything sounds like the country classics, you happen to be in luck. Connie Smith, one of the absolute golden female voices of '60s and '70s country music, has just released Long Line of Heartaches (Sugar Hill) her first album of new material since 1996. And she absolutely nails it.
Smith works her way through a dozen stone-cold country tearjerkers, quick and dirty lyrical dissections of broken-heart syndrome. Half the tunes are fresh from the pens of Smith and husband/writing partner Marty Stuart, while the others come from heavyweights like Kostas, the late Harlan Howard and the vastly underrated Johnny Russell. Super-writer Dallas Frazier, who wrote so many of Smith's hits, came out of retirement to contribute a new tune, "A Heart Like You."
Lonesome Onry and Mean caught up with Smith at Stuart's offices in Nashville Tuesday.

Lonesome Onry and Mean: You've only recorded one other record since you semi-retired in the '70s. Why a new record right now?

Connie Smith: Marty has been trying to get me to do this for some time. I've got five kids, seven grandkids, and a very busy husband, so I've been pretty occupied with life, but I knew the clock was ticking. I'll be 70 years old in two weeks, so it's like now or never. But it's deeper than that.

Dallas Frazier approached us a year or so ago with a new song he'd written and we put a hold on it [in the Nashville system, artists are able to "put a hold" on a song they may be interested in covering so the song isn't recorded by someone else first]. And then we got offered another great song through Kostas, Patty Loveless and her husband Emory Gordy, Jr., so we put a hold on that one. And that's when Marty said, "Now's the time to get serious."

The bonus was that Marty arranged for RCA Studio B, where all my original hits were cut. I knew that was going to make the work comfortable. So it really was time to do the record. Add to that that I got to use my band. Marty says he was only a guitar player, but he produced it and it wouldn't have happened or turned out so well without him.
LOM: These are all such classic country lyrics, Loretta and Tammy kind of stuff. And several of the tunes you and Marty co-wrote just scream Texas audience to me, especially "You and Me," which has that perfect Texas dancehall beat.

CS: You know, when I was working all the time in the '60s and '70s, I probably spent ten days a month in Texas. There were so many big clubs in Houston back then, and we played them all. So I get that part of the country audience. I actually broke out of Houston and Atlanta.
LOM: You blew up so quickly, getting to No. 1 in the first three months of your career with your first single ("Once a Day"). And you had such an incredible string of records in the charts. What was the biggest thrill of that period?
CS: I was driving through the hills of West Virginia on my way to Nashville when "Once a Day" came on the radio [laughs]. And we were driving through the hills, so I literally leaned out the passenger side window and raised the antenna as high as it would go because I didn't want it to fade out.
I know that doesn't seem like much, but I always dreamed of hearing myself on the radio. So I think that was my biggest thrill.
LOM: My dad lives in the country in Central Texas, and he was the first person to get me to watch Marty's show on RFD network. And the first time he got me to watch it, you were on.

CS: Actually I'm on every episode. I guess I'm what you'd call the "girl singer." The Porter Wagoner Show is the template that Marty uses for the show, so I think it gives the show a kind of classic look.
LOM: Who are some of the current young female acts that have caught your attention?

CS: Oh, I just love the Quebe Sisters. We had them on in the first season, and we've had them back for at least one segment every year. They're sensational.
LOM: Your voice is in such great shape. How do you take care of an instrument like that?

CS: [laughs] Well, I don't think it's in very good shape. I really should've taken a lot better care of it than I have. I guess I've just been lucky in that.
LOM: I think men all over the country are dying to ask you this: Whatever possessed you to marry that wild hillbilly Marty Stuart?
CS: [laughs] Marty and I used to write together and that's when I discovered what a beautiful heart he has. And I fell in love with that guy. Now I actually get nervous standing by him when we are performing because he is so talented. I know that if I sing a little off-key, he knows!
By Chris Gray