Marty Stuart has spent most of his life looking at the world from a stage. At 13, he hit the road as a member of Lester Flatt's band and later performed with legends such as Vassar Clements, Doc Watson, Johnny Cash and the Sullivan Family. Along the way, he met many important players and bought or swapped instruments with them. As a result, he has amassed a collection of historically important guitars that rivals that of the Country Music Hall Of Fame.
"My guitars all have an interesting story," comments Stuart, noting that many have been played on historic recording sessions. Though he treasures these instruments and values their importance, he isn't locking them away in a vault. The guitars continue to make history in Stuart's hands. "They're still working guitars. I play every single guitar I have. They have to earn their keep. I don't take them all on the road but I use them for TV, videos, and recordings."
Marty has given most of the guitars a name that corresponds with the owner who made the instrument famous. For example, Clarence is the '54 Telecaster that once belonged to super picker Clarence White. Its distinctive tone can be heard at any Stuart concert or on records such as his latest MCA release, Love And Luck. "That guitar has a following," says Marty. "Any time a guitar player comes around who's a fan of Clarence's, I'll just hand it to him. That's what it's all about."
Stuart's love affair with the guitar has not waned since he got his first Teisco Del Rey when he was nine. He's still an avid collector, even though he laments the fact that good bargains are getting harder to find. He's also involved with developing the classics of the future, helping Fender design the Clarence White Telecaster. To him, it's all a matter of keeping the legend alive: "As we round ourselves toward the 21st century and look back across the landscape of great American products, I think you could put great guitars alongside things like the Cadillac."
Here's a glimpse of some of Marty's favorite guitars from his collection.
---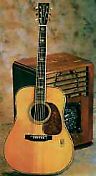 Hank
This prewar Martin D-45 once belonged to Hank Williams Sr. After Hank passed away, the guitar was given to his son, Hank Williams Jr., who later sold it to Johnny Cash. Marty acquired the instrument from Cash by trading one of Merle Travis' guitars for it. Note the pearl inlay featuring Johnny Cash's name on the guitar's lower treble bout.
---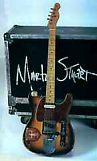 Clarence
Clarence White played many of his most famous licks on this '54 Fender Telecaster. The guitar features the B-string bender that White developed with Gene Parsons, a pair of Keith tuning pegs on the E-strings, and a wacky E-string bender that Stuart added. "That guitar definitely has a sound about it," notes Stuart. "It has no reason to make sense, but it has a magic about it that you can't deny. I don't feel like I bought the guitar. I just bought the rights to borrow it." This is Marty's main guitar for recording and live performance.
---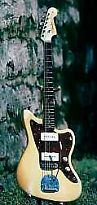 Wayne
One of Marty's most prized recent acquisitions, this early '60s Fender Jazzmaster was owned by Wayne Moss who used it to record "Pretty Woman" with Roy Orbison, "Only Daddy That'll Walk The Line" with Waylon Jennings and "Almost Persuaded" with David Houston. The custom Olympic white finish makes this guitar cooler than cool.
---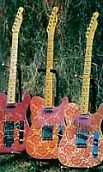 Paisley Teles
Stuart has a well-developed eye for style, which may explain why he owns a whole flock of paisley Fender Telecasters. The two on the right are original versions from '68/'69 and the one on he left is a reissue model from the late '80s. The reissue features the same type of E-string bender found on Clarence.
---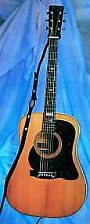 Lester
Marty got his first big break when he landed a gig with Lester Flatt at age 13. Every night he watched Lester perform on this '50 Martin D-28. After Flatt passed away, the guitar became Stuart's. Note the large pickguard which Flatt added to the guitar and the custom inlays above the 12th fret.
---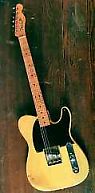 Ronson
Marty buys many of his vintage guitars from Danny Shea in New York City. Recently, Shea came across this '52 Fender Esquire which once belonged to Mick Ronson and sold it to Stuart. The Esquire is stock and in very good condition with just a small amount of wear from being well-loved. Stuart takes this guitar on the road and plays it during several songs in his show.
By Chris Gill
Photos by Bill Thorup