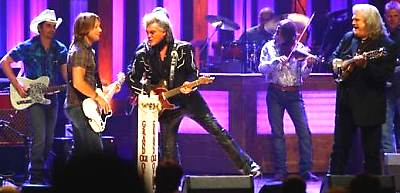 When the Grand Ole Opry House re-opened Tuesday night after Nashville's historic May flood, the evening ended on a dazzling note with five guitar wizards — Keith Urban, Brad Paisley, Steve Wariner, Marty Stuart and Ricky Skaggs — tearing it up on a six-minute version of Merle Haggard's "Workin' Man Blues."
Keith and Brad went off to the races in a flurry of chicken-pickin' notes, Steve turned in some impressive vocal scatting over his solos, Ricky punctuated his final spotlight moment with jagged staccato rhythms, and Marty best replicated the jangly sound of Merle's late-'60s efforts.
The restoration of the Opry House was captured in a two-hour GAC special, Country Comes Home: An Opry Live Celebration, that saw many of the Opry members reminiscing about the ways in which the floods affected them.
Keith and Brad, of course, lost huge stashes of guitars that were kept at a storage facility near the Cumberland River. Those collections have — like the Opry House — been mostly restored, so you might think the instruments they used during the guitar jam had a symbolic water connection.
"Mine doesn't," Keith said.
"Mine," Brad quipped, "was bought with insurance money!"
Sure, he can laugh now, but when the floods hit, the loss of equipment was devastating. Musicians bond with their guitars, many players even name them. Seeing a fleet of them wiped out created a reaction that was very much like the end of a relationship.
"We both experienced the same thing," Keith said. "We pretty much lost everything. And the instincts were, everyone said 'You must be on a buying frenzy.'"
Replacing the lost models wasn't that easy.
"It's a little like I couldn't start dating straight away," Keith insisted. "It'd be a bit disrespectful to my guitars."
Brad is over his mourning period.
"Now," he laughed, "I'm like the loosest girl in the high school!"
"It was devastating," he added. "This is the thing: [there's a] silver lining. The bad thing is there were a lot of guitars lost. But there were also a lot of banjos lost! There's always a silver lining!"
He was, of course, joking. The fact is Brad's been able to move forward — and to laugh at a not-so-distant tragedy — in the same way the Grand Ole Opry House has been rebuilt and even modernized.
By Tom Roland