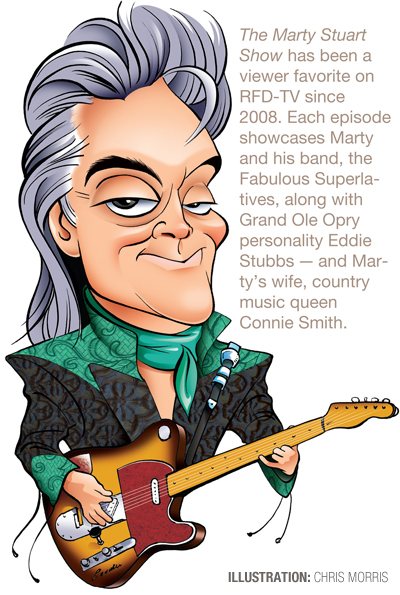 Cowboys & Indians: Your new dual album release covers all the bases. Saturday Night is full-tilt country, while Sunday Morning has a devout gospel flavor. You've got everything from hell-raising to Lord praising.

Marty Stuart: [Laughs.] Yeah, everything that is good and holy that stands under the umbrella of country music is inside this record.

C&I: What inspired you to offer such a mix?

Marty: Well, there are a couple of different things going on here. One is an absolute pure reflection of the Fabulous Superlatives and where we are in our journey. When we first got together, we knew we were a country music band. But the way we got to know each other as people — and as singers and musicians — was singing old gospel songs backstage, or going down the road in the bus. So there was a lot of gospel music at the foundational level of the Superlatives. Later on, as [RFD-TV's The Marty Stuart Show] became a part of our life, we just put a gospel song on every show like a traditional old TV show would do. And all of a sudden, it appeared that we knew a bunch of gospel songs in addition to our hillbilly songs.

C&I: So you wanted to demonstrate the diversity of your music?

Marty: That's one side of it. The other side is, well, I just took the subject of love — a guy or a girl with a broken heart. The whole first record is about going through the hell of missing and losing someone. You start off with "Jailhouse," to indicate you're living inside of a bad relationship. You go all the way to "Streamline," which I think of as the ray of hope after all this stretch of hell. Like, I'm going to poke my head up out of that grave and live again.

C&I: And that brings us to the second record.

Marty: We start out with "Uncloudy Day" [with The Staple Singers], which is kind of a pivotal song. It's almost like a beacon of light coming into the soul. Then you go all the way to "Cathedral," and then you wind up with "Heaven." You start with "Jailhouse," living in the hell of earth, and the [dual album] ends by you going to heaven. So it is a complete journey through the pain of losing someone and then finding a ray of hope and the means to go on.

C&I: You've been hailed as someone who proudly carries the banner for traditional country music. Would you say this dual album, like your popular TV show on RFD-TV, is part of your campaign for that cause?

Marty: [Laughs.] Well, I don't know if I'm a banner waver. It's not a calculated position, it's just kind of how I live my life these days. My choice at one point a few years ago was to draw a line in the dirt and go, "You know what I love? Traditional country music." I will stand by it, throw my arms around whatever is left of the 20th-century culture of it, try to bring it into the 21st century, and write a new chapter for it. Let young people — and anyone else who is interested in it — know that there's still a heartbeat in this thing. It's not dead. It's alive and well. That's how we keep it alive.

C&I: Still, you're not quite as dogmatic as some traditionalists. There are folks out there who'll claim, well, if you like Johnny Cash, you can't like Brad Paisley.

Marty: Yeah, I disagree with that. My view about country music is, if you're a casual listener, it doesn't matter where you get on. Check in with Florida Georgia Line, or Thompson Square, or Lady Antebellum, or Carrie Underwood. Just pick one. Just go in the door and then start looking around. You'll find there are heartfelt songs and stories all along the way, from the top to the bottom of the world of country music. The bottom line is, we're all a big family. Just get in and start traveling and see what you find.


By Joe Leydon